Former Notre Dame women's basketball star Skylar Diggins-Smith has heated argument with Diana Taurasi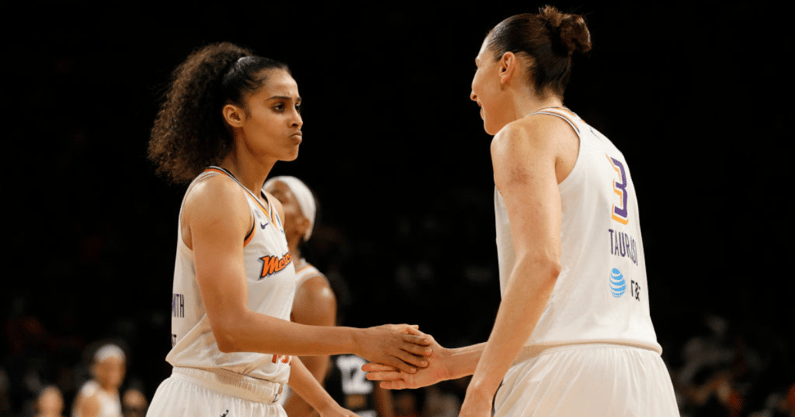 Former Notre Dame women's basketball All-American Skylar Diggins-Smith has always been a fiery competitor. She racked up all kinds of accolades in an Irish uniform with a hard-to-match combination of talent and competitiveness.
Much of the latter was on display last night.
Now with the Phoenix Mercury, Diggins-Smith appeared to be agitated on the bench with her team leading the Las Vegas Aces 38-33. She stared sternly straight ahead and bobbed her right leg up and down in a seemingly disturbed manner. Then she got up and confronted 17-year Mercury veteran and 10-time WNBA All-Star Diana Taurasi.
Fellow former Notre Dame player Brianna Turner tried to calm Diggins-Smith down, but she brushed it off. Diggins-Smith and Taurasi exchanged heated words while Taurasi was still seated before she got up in the face of Diggins-Smith. That's when a slew of teammates and coaches took action to diffuse the situation.
PROMOTION: Sign up for just $1 for your first year at Blue & Gold
The Mercury imploded from that point of the game forward. They were outscored by 17 and lost 86-74. Diggins-Smith scored 10 points, dished out a team-high six assists and grabbed four rebounds. Taurasi scored eight points, snagged zero rebounds and had four assists. She also had a team-worst -16 plus/minus.
Mercury head coach Vanessa Nygaard was asked about the altercation after the game.
"People play sports with a lot of passion," she said. "We're not the first team to have any kind of arguments or disagreements on the bench. You've seen it throughout the NBA and other leagues this season. The players play hard and with passion. This is their lives. This is the game they love. There's a lot going on. Our team has even more going on with the (Brittney Griner) situation too. That isn't something that goes away for us."
Per U.S. officials, Griner has been wrongfully detained in Russia since February after vape cartridges containing oil derived from cannabis were allegedly found in her luggage at an airport in Moscow.
Notre Dame football recruiting
• Cover 3: Who is the most important Notre Dame official visitor this June?
Diggins-Smith, meanwhile, is an eight-year WNBA veteran. Phoenix is her second organization. She was drafted by the Tulsa Shock, now the Dallas Wings. She's a five-time WNBA All-Star and three-time All-WNBA first-teamer. She was a two-time Nancy Lieberman Award winner and two-time Big East Player of the Year while at Notre Dame.
The same year she graduated from Notre Dame and was drafted by the Shock, Diggins-Smith had her number retired by South Bend (Ind.) Washington High School. On the same night, a brawl broke out between her alma mater and players from Hamlet (Ind.) Oregon-Davis. Diggins-Smith was reportedly yelling expletives at opposing players.
"I stick up for my family at ALL times…..UNAPOLOGETICALLY!" Diggins-Smith said in a now-deleted tweet.
Once that competitive fire initially emerges, it never seems to leave.