Observations: Notre Dame breezes past Clemson for sixth straight win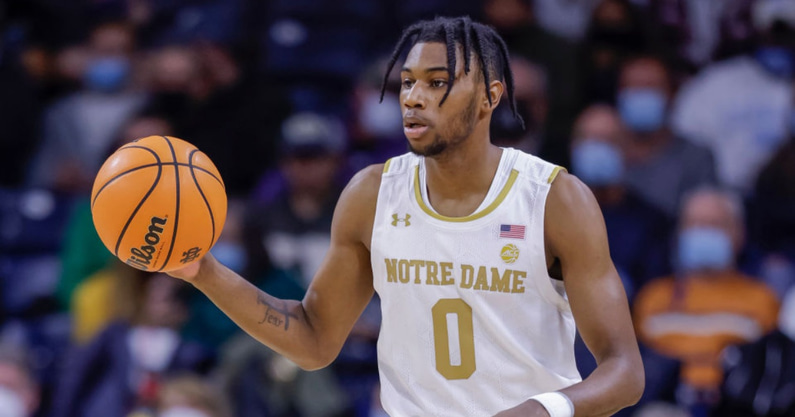 Notre Dame left little doubt in this one.
Following three conference wins by a combined 10 points, the Irish put Clemson in an early hole Wednesday and slowly buried them the rest of the game in a 72-56 win. They led for 38:28 and held a double-digit advantage for the final 29 minutes. It was their sixth straight win and seventh in the last eight games. They're 10-5 overall and 4-1 in the ACC, which is just a half-game behind first-place Miami. Clemson dropped to 10-6 and 2-3.
Senior guard Dane Goodwin led Notre Dame with 21 points. The Irish shot 45.5 percent from the field and 38.5 from three-point range. They held Clemson to 34.4 percent from the floor.
Here are three observations from the game.
1. Slow Blake Wesley start no problem
When freshman guard Blake Wesley is off his game, Notre Dame's offense is a threat to follow suit. Without Wesley's creation in the half court and explosiveness in transition, the Irish are prone to field goal droughts and stilted possessions. Let last year's team serve as evidence.
Wesley's first half against Clemson was his bumpiest play since a loss at Boston College Dec. 3. He had four points on 1-of-4 shooting with three turnovers, nearly committed a fourth on an errant pass and sat the final 4:18 of the half after picking up his second foul on a charge.
Notre Dame barely suffered. That was the sign of a veteran offense in lockstep. The Irish led 36-20 at halftime and shot 50 percent from the field despite little from Wesley. All six other rotation members contributed something in the opening 20 minutes.
Goodwin poured in 15 first-half points. Forward Paul Atkinson Jr. had seven points on 3-of-4 shooting. Guards Trey Wertz and Prentiss Hubb had four total assists. Forward Nate Laszewski had seven points and two assists.
Wesley awoke in the second half and scored 16 of his 20 points then. He attempted a season-high nine free throws and was 6 of 14 from the field. He is the first Notre Dame freshman with consecutive 20-point games since Chris Thomas in 2001.
2. Notre Dame Mixes Defenses
Notre Dame flipped to its zone defense one possession into the game, an interesting strategy against a Clemson team that came in shooting 40.9 percent on threes. Only two Division I teams had a better mark.
It affected Clemson's offense, though, and kept the Tigers out of rhythm the entire first half. Notre Dame stretched its zone out to the perimeter to get up close to Clemson's guards and contest their three-point attempts. Irish defenders hustled after them around screens. They stayed glued to offensive players and didn't play liberal help defense that would lead to open threes.
Clemson still found its share of rhythm three-pointers, but they were a hair long or short all night. The Tigers started 3 of 24 on threes and ended 6 of 32 (18.8 percent). Part of it felt like an off night even good shooting teams endure once or twice a year. Notre Dame's defense deserves some credit, though.  
Notre Dame was content to play one-on-one in the post with Clemson forward and leading scorer PJ Hall in exchange for limiting clean three-pointers. Hall scored 14 points, but was just 7 of 16 from the field and did not shoot a free throw.
3. Shooting remains a weapon
Mike Brey's response to Notre Dame's early season shooting funk was a plea for progression to the mean. It fell on fans' deaf ears. This cast of characters has been an up-and-down shooting group since 2018, after all. Maybe that streakiness would put a ceiling on how much the three-point percentage could climb, but surely, Brey was right in thinking the Irish weren't going to shoot 30.6 percent from deep all year.
That was their percentage following a loss to Indiana Dec. 18. It ranked in the mid-200s nationally at the time.
Six games later, it's up to 35.9 percent, which ranks 81st. Notre Dame has eclipsed 40 percent four times in that stretch and made at least 10 threes five times. The Irish were 10 of 26 against Clemson, and a 4-of-8 start helped them separate early. They now have three players shooting at least 36 percent from beyond the arc this year: Ryan (36.0 percent), Laszewski (44.8 percent) and Goodwin (45.7 percent).