Observations: Notre Dame pulls out 72-68 overtime win at Georgia Tech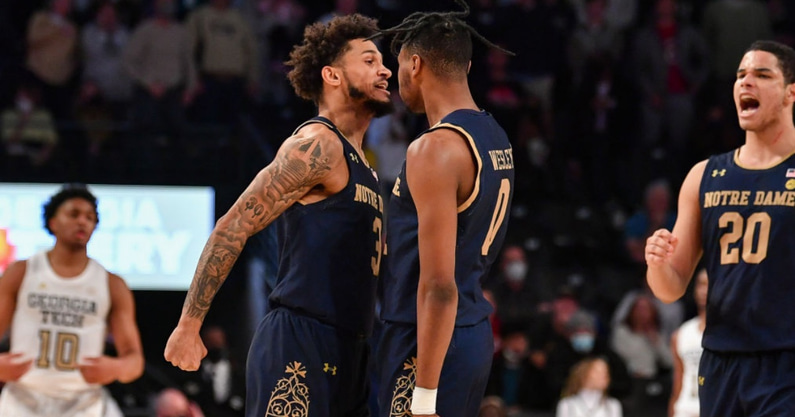 Notre Dame halted its McCamish Pavilion horrors.
The Irish's Saturday trip to Georgia Tech had the same tight-game script as its prior visits. This one even required overtime to decide. That script usually finishes in a loss — often as a result of crushing mistakes. Notre Dame was 2-6 in its last eight games at Georgia Tech, which were decided by an average of 3.5 points.
"They've all been like that here and you could feel it coming in the last 10 minutes," head coach Mike Brey said.
His team finally wrote a different ending.
Prentiss Hubb's three-pointer broke a 64-64 tie with 2:23 left in overtime and sent Notre Dame to a 72-68 win. It was the fifth straight win for the Irish, who are 9-5 and 3-1 in the ACC. Georgia Tech dropped to 6-8 and 0-4 in conference games.
Notre Dame shot 47.0 percent from the field, while Georgia Tech shot 38.8.
Here are three observations from the game.
1. The Blake Wesley experience
It might be a bit of a roller coaster, but the end result is usually a net positive.
Even as Notre Dame freshman guard Blake Wesley learns to play within himself and dial back the pace at times, he makes things happen to more than offset it.
Saturday was one of those days.
There were missteps. A few times, he put his head down and drove into traffic, seemingly not looking to pass, and missed tough layups. He lost his handle for one turnover, committed a moving screen on a dribble handoff for another and had a pass slip out of his hands for a third. He lost the ball when put his head down and tried to finish over a planted defender with 1:45 left.
Wesley more than made up for them. He finished with a game-high 22 points, albeit on 9-of-21 shooting. There were misses he will wish he didn't shoot. And there were makes only he can provide. He made a go-ahead three-pointer with 46 seconds left in regulation. He slithered past a defender on the wing and kicked to Hubb for the tiebreaking three. Earlier in the second half, he burst through traffic on the wing and sneaked an and-one layup in a tight window.
On defense, Wesley was active at the top of the zone defense Notre Dame used for much of the second half. He slid in passing lanes to create loose balls and kept his man in front of him. He had three steals and helped cause a couple others for teammates.
2. Paul Atkinson Jr. responds
Brey wanted to send a message to graduate student forward Paul Atkinson Jr. following his two-point game Wednesday against North Carolina. For the first time this year, Atkinson came off the bench.
"I didn't think his edge was up and I really challenged him the last couple days," Brey said.
It clearly resonated. Atkinson's energy was on display the moment he entered the game with 15:16 left in the first half. He provided a needed lift when the Irish started the game like they were still asleep. Brey didn't take Atkinson out until the break and started him for the second half.
All told, Atkinson scored 16 points — 12 in the first half — and was 8 of 9 from the field. He made his first eight shots. He grabbed seven rebounds, blocked two shots and had three assists.
Whether Georgia Tech kept its normal smaller lineup on the floor or played 7-1 Saba Gigiberia at center, Notre Dame had little trouble finding Atkinson in the post and on pick-and-rolls for easy baskets. He was one of just three Notre Dame players to score in the opening 20 minutes.
3. Prentiss Hubb's late poise
Hubb has spent all season trying to pull the wheel around on a senior year that has gone off course. He has as many scoreless games as 15-point games (two). He's averaging under 10.0 points per game for the first time in his career and is shooting 32 percent from the floor.
Saturday was a positive, even if it didn't contain a 20-point explosion or a three-point barrage.
Hubb put a scoreless first half behind him to finish with 10 points, nine assists, two steals and, of course, the go-ahead shot. He did more than just make that three, though. He assisted on Wesley's late three in regulation and Dane Goodwin's jumper the possession before that. Between those, he locked up Georgia Tech guard Kyle Sturdivant on defense to force a mid-range miss.
The play after his overtime three, he slid over in help defense to stop the ball and allowed forward Nate Laszewski to come up with a steal. It was a fitting end to a strong defensive outing from him.
Hubb's missed free throw with 16 seconds left in overtime nearly loomed large, but it was an outlier in his late-game play.
This game likely won't change his new (and tough to swallow) role as a secondary scorer who defers to Wesley, Goodwin and Atkinson. At the same time, this game was proof he can still help in that job.