Observations: Notre Dame holds off North Carolina, 78-73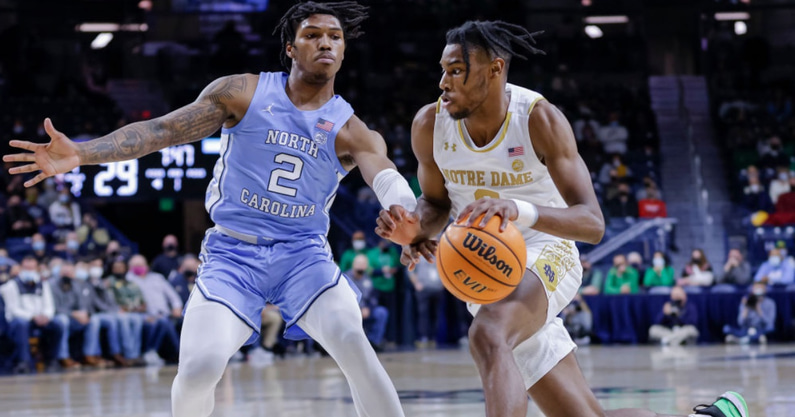 Notre Dame was in this spot three weeks ago.
Tight game down the stretch. Blue-blood program in your building. A chance to make a statement and grab a key win.
In other words, time for a veteran team to play like one should in these moments.
The Irish did all that in dispatching Kentucky Dec. 11. They followed it up with a 78-73 win over North Carolina (10-4, 2-1 ACC) Wednesday, their fourth straight victory, to move to 8-5 and 2-1 in the ACC. It was their first action since a one-point win at Pittsburgh Dec. 28.
"We've grown a little bit as far as believing how to finish games and being in close games," head coach Mike Brey said. "To be 2-1 in this league after how we had to win the last two games, I'm thrilled."
Two three-pointers from senior forward Nate Laszewski turned a one-point Notre Dame deficit into a 72-67 lead with 1:55 remaining. Senior guard Prentiss Hubb's free throws after he was fouled on a three gave the Irish a 74-70 cushion with 44 seconds left.
Laszewski led Notre Dame with 20 points and was 6-of-7 on threes. Freshman guard Blake Wesley added 18, while senior guard Dane Goodwin had 17. Notre Dame was 13-of-31 on threes overall (41.9 percent).
Here are three observations from the game.
BOX SCORE: Notre Dame 78, North Carolina 73
Wesley first, Goodwin later
When the game tipped off, it was as if Blake Wesley could sense there were nine NBA teams in attendance. Notre Dame's star freshman guard and blossoming pro prospect put forth one of his most active and aggressive games of the year, with much of the activity coming in the first half.
He got Notre Dame into its offense every possession. The offense revolved around him breaking down the defense with his rare bust and ball-handling and either scoring himself or kicking out to the perimeter. His lone assist came in the second half, but his passes off a drive often led to open shots or points from someone else. He exploited switches on forwards. He dusted guards.
He was, though, just 2-of-6 in the second half. That's where Notre Dame's steadiest player took over. Senior guard Dane Goodwin scored 11 points in the second half, including a pair of turnaround paint jumpers when posting up. He hit double figures for the 13th straight game. Both jumpers stopped a North Carolina run that had cut Notre Dame's lead to five.
Laszewski's production was sprinkled in from start to finish. North Carolina too often lost him on screens or lost track of him off the ball. He made three of his long-range shots in the first half and three in the second.
Twos for threes
Notre Dame was content to give up twos at the expense of not allowing many threes and staying at home on the perimeter. That meant playing single coverage on forwards Armando Bacot and Brady Manek, which everyone in Carolina blue recognized and attacked right away.
Bacot, a 6-10, 240-pound smokestack, had 21 points and 17 rebounds. He reached a double-double by halftime. He sent Notre Dame graduate student forward Paul Atkinson Jr. to the bench with two first-half fouls and bested Laszewski on a few occasions. Manek added nine points.
Notre Dame, though, was OK with the trade-off if North Carolina – which came in shooting 40 percent on three-pointers – didn't have much space to operate on the perimeter. Notre Dame held the Tar Heels to 1-of-9 on threes in the first half.
It flipped in the second half, though, as Notre Dame shifted to a zone defense. UNC was 7-of-13 from deep after halftime, while Bacot had just five points. Point guard Caleb Love, an explosive but at times inconsistent scorer, had 13 second-half points after just two in the first 20 minutes. The Irish had built a large enough cushion and made enough threes in response, though, to hang on.
More strong defensive rebounding
Notre Dame needed no reminding of how its March 2021 meeting with North Carolina went in any fashion, but especially not on the boards.
The Tar Heels pulled down 25 offensive rebounds – 61 percent of their missed shots – in a 101-59 win that ended Notre Dame's season. Wednesday, though, Notre Dame held them to just five, or 16.1 percent of their misses. Only two of Bacot's 17 rebounds were on offense.
This wasn't an outlier from the Irish either. They held Pitt to five offensive rebounds eight days earlier. Indiana had only six against them on Dec. 18. Kentucky, the nation's best offensive rebounding team (42 percent), had just five.
All told, Notre Dame ranks 13th in opponent offensive rebounding rate (22 percent).