Phil Steele ranks Notre Dame in preseason top 10, details national title potential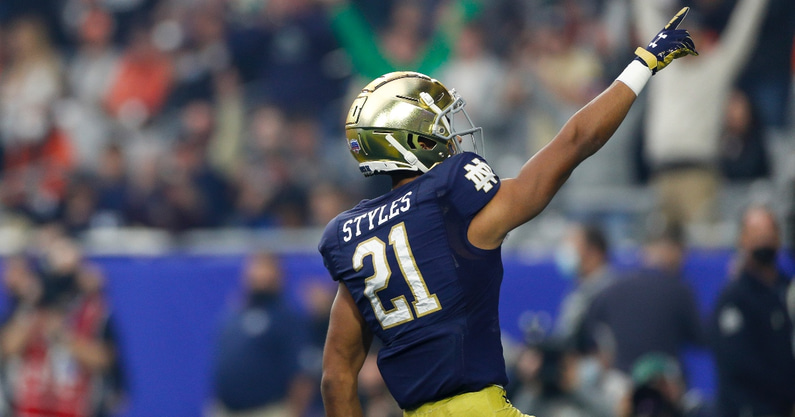 Arguably the most accurate college football preseason magazine on the market, the 2022 edition of Phil Steele is here and filled with an abundance of 2022 predictions. After conducting copious research, utilizing computer formulas, and even speaking with Notre Dame head coach Marcus Freeman, Steele has the Irish ranked as the No. 7 team in the nation heading into 2022. 
At the heart of his prediction about this fall's team is the fact that the Irish bring back a wealth of top-notch talent. 
"This year, Notre Dame has 15 returning starters and with a stronger offensive line, could be even better (than the 2021 team)," Steele wrote in the preview magazine. "The players loved the hire of Coach Freeman as the head man.
"They open at Ohio State, host Clemson and close at USC, but even if they lose one of those, they would still be a legitimate national title contender."
PROMOTION: Sign up for just $1 for your first year at Blue & Gold
CLICK HERE to order the 2022 Notre Dame Football Preview
Steele ranks Notre Dame's 12-game schedule as the 44th hardest in the nation and gives them a five-point homefield edge on the year. The guru is optimistic about the unsettled quarterback situation, citing Tyler Buchner's rushing abilities as positive and a confidence booster for the offensive staff. Notre Dame's offense statistically improved last season in the points per game category despite losing all-time-winningest quarterback Ian Book and numerous other offensive weapons after the 2020 season. Steele projects the offense will improve once again in 2022, and his formula suggests the Irish will average around 35.5 points per contest. 
The common sentiment among college football experts is Notre Dame's 2022 strength will be up front — on both sides of the ball. Steele agrees.
"Very talented offensive linemen who were thrown into the fire as true (freshmen) all return, as does Harry Hiestand, who was the offensive line coach there (from) 2012-17," Steele said. "This unit will once again be a Joe Moore Award contender."
The aforementioned former true freshmen are offensive tackles Joe Alt and Blake Fisher. Alt was a freshman All-American in 2021. Fisher missed the vast majority of the season with a knee injury, but he is still widely accepted as a future high-level NFL Draft selection. 
On the defensive side, Steele likes EDGE Isaiah Foskey and interior defensive lineman Jayson Ademilola to lead a group that "could be just as strong (as 2021) and is a little deeper."
Steele ultimately ranks the top-40 teams in college football, and the Irish will play four of them this fall: No. 2 Ohio State, No. 4 Clemson, No. 16 USC and No. 26 BYU.
Phil Steele's top-10 teams
Alabama
Ohio State
Georgia
Clemson
Michigan
Utah
Notre Dame
Oklahoma
Texas A&M
Oregon