Pot of Gold: Every new 2024 cornerback offer Notre Dame sent out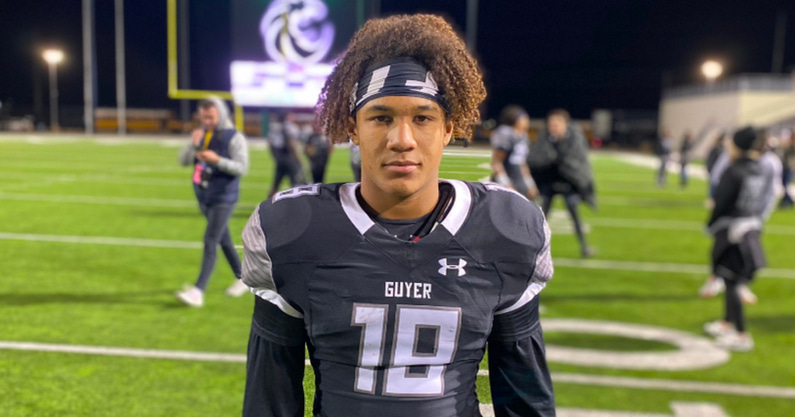 St. Patrick's Day is a built-in holiday for Notre Dame to utilize on the recruiting trail, and during the "Pot of Gold" day, the staff offered dozens of new prospects.
New defensive coordinator Al Golden is looking to revamp a Notre Dame secondary that struggled at times during 2021. While it will be a minute before the class of 2024 makes it to campus, the Irish offered several new corners on Thursday who Golden and staff believe could make a positive impact on the program.
Philadelphia St. Joseph's Prep CB Omillio Agard
Height/weight: 5-10, 160
On3 Consensus Ranking: No. 36 NATL, No. 7 CB, No. 2 player from Pennsylvania
Other notable offers: Florida State, Georgia, LSU, Penn State, USC
While Agard resides in Philadelphia, he trains in Atlanta during the offseason to play more southern competition. He has close ties to several Georgia players, as the Bulldogs have built a bit of a Philadelphia to Athens pipeline in recent years with players like running back DeAndre Swift, who actually went to St. Joseph's, and safety Tykee Smith. However, at this time, Agard is trending toward staying in-state at Penn State according to the On3 Recruiting Prediction Machine (RPM).
Fort Lauderdale (Fla.) Dillard CB Antione Jackson
Height/weight: 6-0, 170
On3 Consensus Ranking: No. 48 NATL, No. 8 CB, No. 14 player from Florida
Other notable offers: Florida, Florida State, Georgia, Miami, Oklahoma
Jackson grew up a Clemson fan, but the Tigers haven't extended an offer. Given Jackson's talent, that definitely could be coming. As it currently stands, Oklahoma and Florida are the leaders for the South Florida native. That's largely based on the fact that Jackson visited Oklahoma for junior day on March 5 and Florida on Nov. 27.
Springdale (Md.) Charles Herbert Flowers CB Braydon Lee
Height/weight: 6-1, 165
On3 Consensus Ranking: N/A
Other notable offers: Alabama, Ohio State, Penn State, Texas A&M, Wisconsin
When Lee got the offer from Penn State, he tweeted it was his dream to play for the Nittany Lions. Springdale is located just outside of Washington D.C., an area which is a popular destination from which to pull high-level recruits. If Lee chose to make Notre Dame his college home, he would be in good company. Notre Dame currently has five players from Maryland on the roster and three from Virginia.
Pinson (Ala.) Clay-Chalkville CB Jaylen Mbakwe
Height/weight: 5-11, 170
On3 Consensus Ranking: No. 52 NATL, No. 6 ATH, No. 1 player from Alabama
Other notable offers: Alabama, Auburn, Georgia, LSU, Oklahoma
On3 lists Mbakwe as an athlete, but Notre Dame is looking at the top recruit out of Alabama for the corner position. Interestingly, Mbakwe knows what he wants to study, and it's an unconventional subject for a star football player: nursing. His mom is a nurse, so he is very interested in the field. Additionally, Mbakwe is interested in running track in college. That could be quite the schedule.
Charleston (S.C.) Phillip Simmons CB Troy Stevenson
Height/weight: 6-0, 165
On3 Consensus Ranking: N/A
Other notable offers: LSU, Ole Miss, Penn State, Virginia Tech, Washington
Notre Dame has pulled some huge recruits out of South Carolina recently, including the top prospect from the state in 2022, linebacker Jaylen Sneed. Could Stevenson be the next Irish great from the coastal state? While he remains unranked, Stevenson is raking in the offers from all over the country. He also plays wide receiver, so the shifty back has great hands and intimately understands offensive routes and quarterback thought processes.
Tuscaloosa (Ala.) Northridge CB Travaris Banks
Height/weight: 6-1, 177
On3 Consensus Ranking: N/A
Other notable offers: Alabama, Auburn, Maryland, Mississippi State
Tuscaloosa natives don't often land in South Bend, as former punter Jay Bramblett was the only Tuscaloosa native (and Alabamian total) to end up at Notre Dame under former head coach Brian Kelly. We will see if Banks bucks the trend. He's a heavy Alabama lean according to On3 RPM (84.6 percent).
Murfreesboro (Tenn.) Siegel CB Jaylen Thompson
Height/weight: 6-0, 175
On3 Consensus Ranking: N/A
Other notable offers: Georgia, Kentucky, Michigan, Ole Miss, Tennessee
Thompson may not have a ranking yet, but his offers certainly show that college coaches are a big fan of the Tennessee native. To date, the defensive back has taken unofficial visits to Michigan and Tennessee. He received his Michigan offer while at a camp in Ann Arbor last summer. As a result of the visits, the Wolverines and Volunteers are early leaders per the On3 RPM.
Height/weight: 6-2, 171
On3 Consensus Ranking: No. 19 NATL, No. 2 CB, No. 6 player from Florida
Other notable offers: Alabama, Georgia, Miami, Michigan, Ohio State
Lester is the top-rated cornerback the Irish are offered on Thursday. The defensive back has blown up in recent months, adding the above offers from the Tide, Bulldogs, Wolverines and Buckeyes in late January. Lester received the Miami offer earlier this week. He's going to be tough to land, as Lester told On3's Chad Simmons that Alabama is his dream school.
Denton (Texas) Guyer CB Eli Bowen
Height/weight: 5-10, 165
On3 Consensus Ranking: N/A
Other notable offers: Cal, LSU, Nebraska, Ole Miss, TCU
Bowen's Notre Dame offer may be new, but he's certainly no stranger to the football program. The defensive back's older brother, Peyton, is a safety commit in Notre Dame's 2023 class. Bowen is a turnover machine in a loaded Guyer secondary, and On3's Hudson Standish believes Bowen's foot speed and reaction time are elite, especially for a prospect who just finished his sophomore season. Might Bowen be interested in joining his brother in South Bend in a couple of years?