BREAKING: Notre Dame athletics director Jack Swarbrick to step down in 2024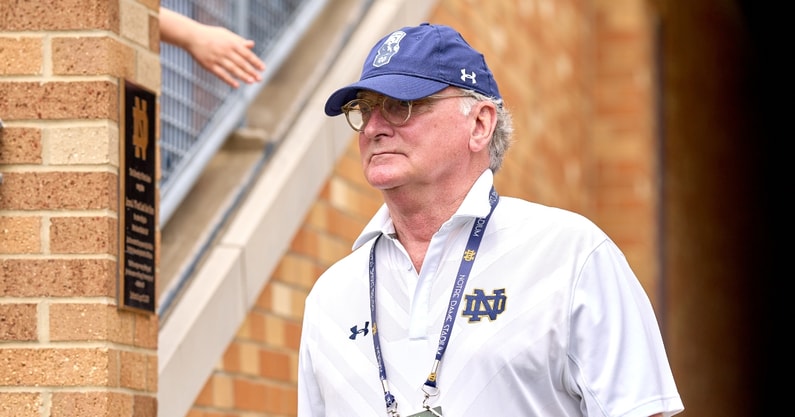 For the first time in 15 years, Notre Dame will have a new athletics director. Sports Illustrated's Pat Forde first reported the Thursday-morning bombshell, and Notre Dame made it official shortly after.
Irish athletics director Jack Swarbrick will step down in 2024. His successor will be NBC Sports Group chairman Pete Bevacqua, a Notre Dame alum.
"This is a dream come true," Bevacqua said in a press release. "With the exception of my family, nothing means more to me than Notre Dame. I don't have a memory in my lifetime, quite literally, where Notre Dame wasn't a part of it."
Bevacqua has held his role at NBC Sports since September 2020. He graduated Notre Dame in 1993. In the release, the Irish called Bevacqua "a highly-regarded leader and innovator in the world of sports.
Bevacqua will join the university on July 1, serving as Special Assistant to the President for Athletics.
"It has been my privilege to work alongside Jack Swarbrick as he led Notre Dame to unprecedented success over the past 15 years while providing such an influential voice in college athletics, and I'm excited that we have such a talented and experienced leader in Pete Bevacqua to spend some time learning under Jack before assuming new leadership in one of America's most storied athletic programs," Notre Dame president Rev. John I. Jenkins, C.S.C. said.
In 15 years as athletics director, Swarbrick oversaw the hiring of both Brian Kelly in 2009 and Marcus Freeman in 2021. The Irish, under Kelly, rattled off five consecutive double-digit-win seasons and made the College Football Playoff twice.
In Swarbrick's tenure, Notre Dame's women's basketball program made the Final Four seven times, winning the 2018 National Championship. The men's basketball program made the Elite Eight in 2015 for the first time since 1979, then did it again the following season.
"I look forward to helping Notre Dame's student-athletes and coaches achieve their goals in the months ahead while also helping Pete prepare for his tenure as athletics director," Swarbrick said.
Bevacqua is the third chairman in NBC Sports history, and has worked closely with the Irish as part of his role. He also serves as a co-chair of RISE, an alliance of major professional and college sports organizations that "promotes racial equality across the U.S. sports landscape."
Before NBC, Bevacqua was the chief executive officer of the PGA of America.
"I have worked closely with Pete throughout his time at NBC and based on that experience, I believe he has the perfect skill set to help Notre Dame navigate the rapidly changing landscape that is college athletics today, and be an important national leader as we look to the future," Swarbrick said.
Blue & Gold will have more updates on this story as they become available.
Preorder Blue & Gold Illustrated's 2023 Notre Dame Football Preview magazine before June 12 and get free shipping!!! On3 subscribers should go to The Lou Somogyi Board for discounted pricing.