Austin Siereveld commits to Ohio State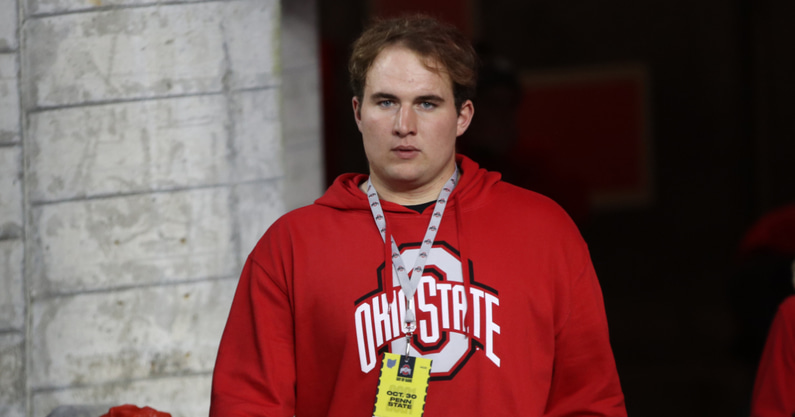 COLUMBUS – Ohio State has landed its latest commitment in the Class of 2023. Austin Siereveld has made his pledge to the Buckeyes.
"The brotherhood that's up there and everyone connected as a family [is why I committed]," Siereveld told Lettermen Row. "It's just one big family. It's awesome because the whole community around me will not only support Ohio State but support me as well."
The 6-foot-5, 315-pounder out of Lakota East High School had been on the Buckeyes' radar mainly since the summer of 2021. Austin Siereveld camped with Ohio State last June, and he caught the attention of former Buckeyes offensive line coach Greg Studrawa.
Studrawa and Siereveld communicated back and forth frequently and two game-day visits led to Siereved landing an offer from Ohio State last October. Many believed a commitment would come quickly after that offer but the country's No. 11-ranked interior line prospect took his time.
"I know some people are going to say 'Oh, you're just going to go to Ohio State,'" Siereveld told Lettermen Row. "And maybe other schools won't want to talk to me because of that. But right now, whatever school talks to me, I'm going to talk to them. I'm not just wanting to go to Ohio State, I am going to want to go to whatever school can make be a better person."
Over the last six months, Siereveld has searched for that fit. He's made a number of visits to schools in the Midwest and eventually narrowed his finalists down to three schools: Ohio State, Notre Dame and Alabama. He returned to each of those schools in March and scheduled third visits with the Buckeyes and Fighting Irish for each program's spring game. Austin Siereveld made both of those trips and then settled into decision mode.
It just took a little longer than anyone may have expected but that choice is now made. Siereveld talked about his decision with Lettermen Row. Check out the video below.