Bennett Christian on 2022 Ohio State class changes, preparing for state title run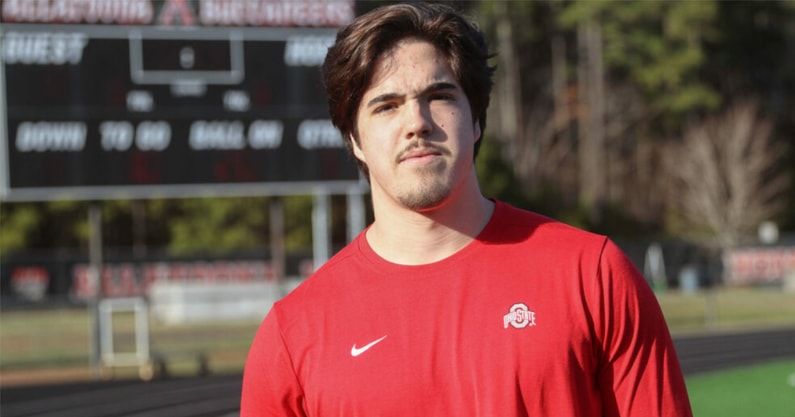 Ohio State football recruiting can be a wild ride. It's full of twists and turns as recruits from all over the country maneuver their way to signing day. Lettermen Row is here to help navigate the tumultuous roads by getting to the heart of the matter. We're talking with the young players and sometimes, the Ohio State coaches and staff members themselves. Today we speak with 2022 Buckeyes commitment Bennett Christian.
---
COLUMBUS – Ohio State knew its committed players were going to be excited to get on campus as soon as possible this summer. Bennett Christian, one of the Buckeyes 2022 recruiting class leaders, didn't want to hesitate. He was one of double-digit verbals who made the trip to Columbus on the first weekend of the June live recruiting period.
It was the first time that the 6-foot-6, 235-pound Christian had been on campus at Ohio State with a chance to meet his future coaches, and future teammates, in person.
"It was huge," Bennett Christian told Lettermen Row. "I finally got to see all the guys and guys who aren't committed and stuff and your coaches for the first time."
Ohio State's top-ranked recruiting class has seen some changes since that big June weekend. One of the players Christian was vital in recruiting, Benji Gosnell, has decommitted. That decision has a number of implications for Christian, who has planned on being one part of a two-man tight end group in 2022. Now, that's up in the air as the Buckeyes try and sort out their options.
And then there's a big, pending decision from Quinn Ewers. What is the top-ranked quarterback going to do? What would Bennett Christian do in the same situation? How did Ohio State coaches respond to Christian during his official visit? What players is he focused on recruiting now?
The future Buckeyes tight end joined Birminology on Lettermen Row to talk about that stuff and more.