Cameron Brown batting away passes, rust in Buckeyes secondary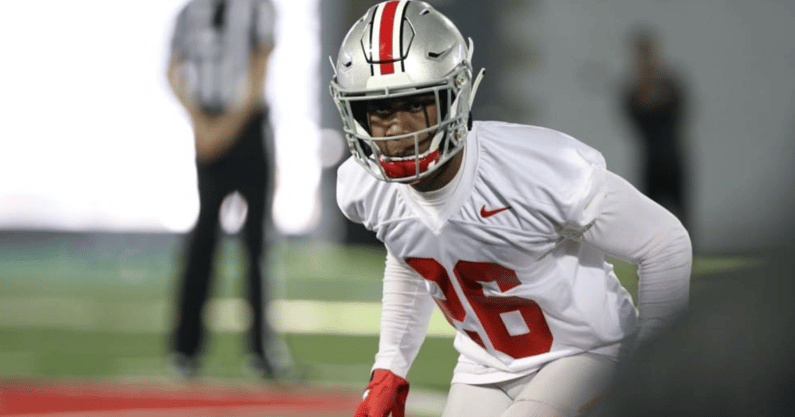 COLUMBUS — If the reps are going to be limited, Cameron Brown is going to make the most of them all.
And if the veteran cornerback isn't actually back to full speed yet, it's certainly hard to tell based on the work he's producing when Ohio State has turned him loose in training camp.
Brown got one of those moments early in practice on Friday during a mini-field drill, turning two consecutive snaps into passes broken up. First he jammed Julian Fleming, stuck with him through the top of the route and punctuated the tight coverage by swatting the ball to the ground. On the very next play he dropped into the middle of the field, closed on a throw over the middle to Marvin Harrison and high-pointed the football with his left hand to force another incompletion.
Those were the kind of plays the Buckeyes were expecting from Brown a year ago before an Achilles injury cut his season short after two games. The redshirt junior appears well on his way to making up for it now even as the coaching staff plays it safe with his workload as he returns to the lineup.
"They're just easing me back into it, because I haven't played since Penn State," Brown said. "But everything has been going good with the pitch count and everything. I've just been focused, ready to keep going.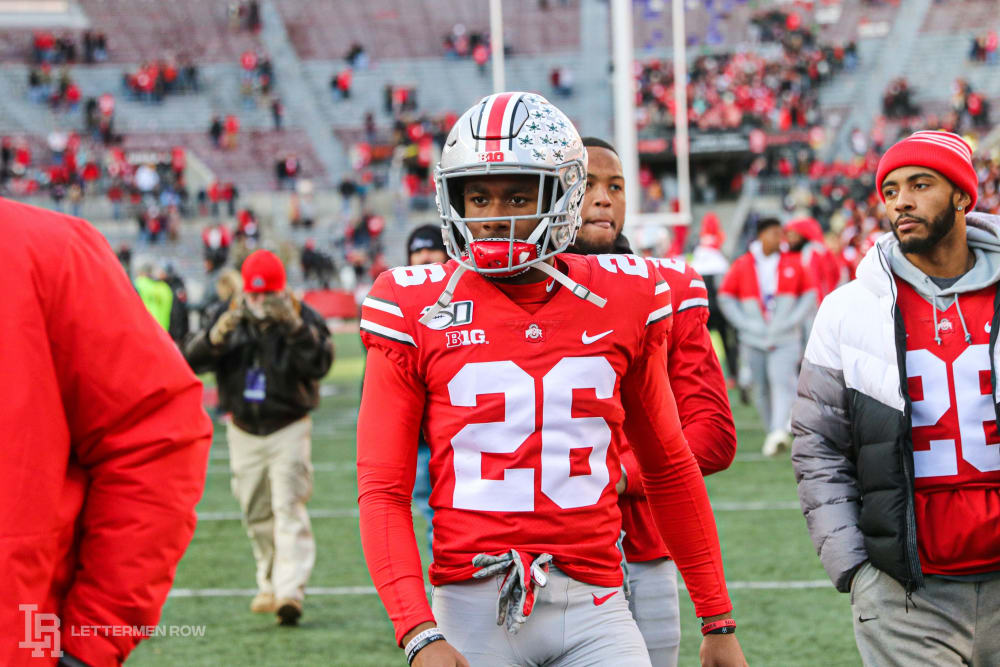 "Yeah, it's definitely frustrating [not to be playing every snap yet], but I just have to do my job whenever it's my time to do it. When it's time to go, let's go."
Brown has been not-so-patiently waiting for that green light again after attacking rehab since last November, steadily regaining both the physical strength and mental confidence to pick up where he left off in the secondary.
He had to watch from the sidelines as the historically vaunted Ohio State pass defense struggled without him and others during the Covid-challenged season, and Brown had to remain patient while held out of almost everything during spring camp. By the summer workouts, there were signs of the high-end speed and sharp cutting that hinted he was getting close to where he was before the injury.
Now they are showing up on the field, which should be a major boost to what Ohio State is expecting to be a major bounce-back effort from the Best in America unit.
"That wasn't bad," Coombs joked about the pass breakups. "It means everything for us, because Cam was playing really well last year. People forget that. He had a good camp, he was playing really well, he was going out there and playing Nickel, man-to-man in some tough situations — and he was playing really well. It was a heartbreaking injury for him. He worked hard to rehab it, and he finds himself in a good spot right now. We are going to be careful, we are going to be cautious — we should be. But at the same time, he's got to knock the rust off and he's got to be ready to play.
"At the same time, he's fast, he's twitchy and he's going to go out there and compete."
As prolific as the Buckeyes recruit in the secondary, there is no shortage of competitors looking to carve out roles at cornerback.
But a healthy Cameron Brown figures to be at the top of the list alongside Sevyn Banks. Both are coming off injuries that limited them in the spring, and both are intent on making up for lost time in training camp.
"It sucked, I'm not going to lie. I was really looking forward to that year. I felt like that was my year to break out and hopefully get to my goal of the NFL, but everything happens for a reason. I'm just going to take my time and keep going this year, get after it. It's the past, and we have to move on from it.
"I feel like I'm 100 percent. I'm ready to go."
The reps that really count are still about a month away. But Cameron Brown isn't going to waste any that Ohio State gives him until then.