Cedrick Hawkins on Ohio State commitment, role in Buckeyes defense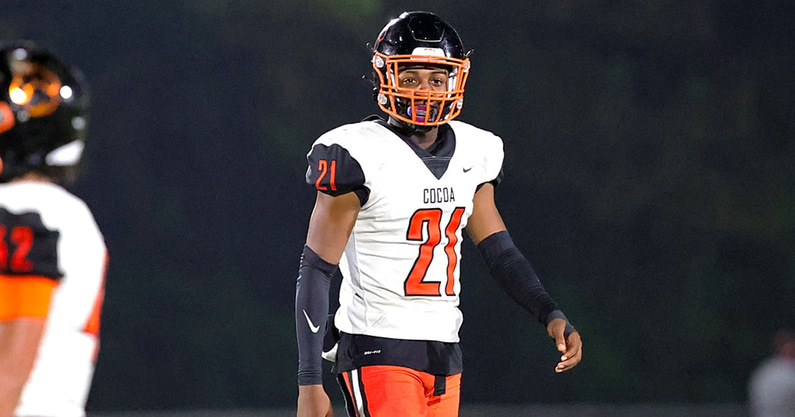 Ohio State football recruiting can be a wild ride full of twists and turns as recruits from all over the country maneuver their way to signing day. Lettermen Row is here to help navigate the tumultuous roads by getting to the heart of the matter with the young football players and Ohio State coaches and staff members themselves. Today we're joined by Cedrick Hawkins, the latest Ohio State 2023 commitment.
Cedrick Hawkins knew when he received an offer from Ohio State that it meant something big for his recruitment. He told Lettermen Row it was a game-changing opportunity when it happened.
"It's game-changing," Hawkins said. "I come from a small town that gets overlooked. The campus [at Ohio State] is great and I love the city."
Cedrick Hawkins has been somewhat overlooked himself. The country's No. 197-ranked junior prospect has 19 early offers, including from home-state schools like Florida and Florida State but he's not been mentioned much as a real early option for the Buckeyes. The impression that Ohio State left on him during his summertime visit to Columbus stuck with him though.
"I went up to Ohio State in the summer and loved everything," Hawkins told On3. "Over the last two to three weeks, I have been thinking about this.
"I gave coach (Tony) Alford a call a couple of days ago and told him about my decision. Ohio State is where I want to go."
What was that left such a mark on Cedrick Hawkins? What does he think about his somewhat anonymous nature? What kind of recruiter does he intend to be for Ohio State and how does he fit into the Buckeyes defense?
The latest 2023 commitment joined Birminology to talk about those things and more as he introduces himself to Ohio State fans.
Check out the video below and head to the Lettermen Row YouTube channel for all the latest in Ohio State football, recruiting and basketball news.