Dante Moore still talking to Ohio State, learning business of college football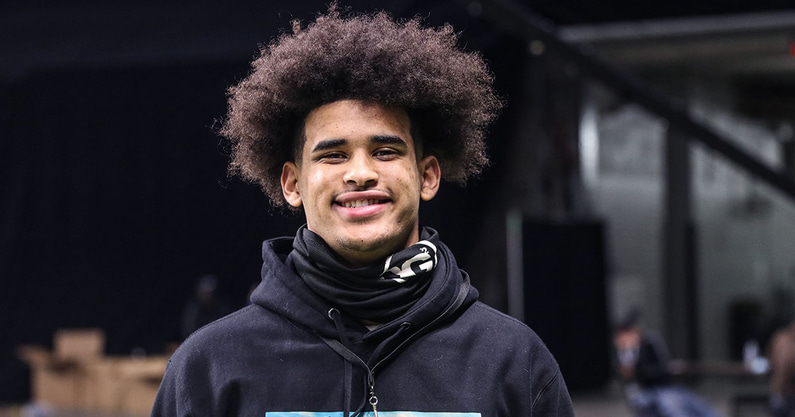 SAN ANTONIO — The buzz in the recruitment of Dante Moore continues to be centered on Michigan, Notre Dame, Penn State and Michigan State.
Ohio State, which offered Moore in June, is rarely mentioned. The Buckeyes aren't often really considered an option for the 6-foot-2, 195-pound quarterback despite a return trip to Columbus at the end of October. Ohio State isn't brought up as a viable contender for the country's No. 4-ranked 2023 quarterback despite the fact that he's from Ohio.
So what gives?
Moore says he isn't sure.
"I really don't know," Dante Moore told Lettermen Row at the Alamodome this past Friday. "And I guess I can't really control what people say or think about it, but me and Ohio State are real close. I'm always keeping in contact with [quarterbacks] Coach [Corey] Dennis and with [Ryan] Day.
"It's my home state, you know? I was born there and I definitely respect them. They're always a great team with a great coaching staff and we've got a close relationship for sure."
During his most recent visit to Columbus, Moore — who has a bit of a resemblance to Ohio State quarterback C.J. Stroud — got some time talking to the Buckeyes quarterback. There are clear similarities in their physical skills and Stroud's opinion about his time at Ohio State helped Dante Moore a bit.
"I spent some talking talking to C.J. in the locker room after [the Penn State] game," he said. "I was just trying to see how the transformation from high school to college was, how they're [feeling] about Ohio State.
"C.J. said 'Man, I chose this spot and I love this spot.' He told me he for sure did not make the wrong decision."
Stroud didn't make any wrong decisions in the Rose Bowl, either. Moore watched that contest and it left an impression on the young quarterback.
"For me, being a quarterback, when I watch the game and a quarterback throws for 500 yards," Moore said. "and he's basically doing that every game? It really makes an impact on me. I know they're going to throw the ball a lot."
Dante Moore has a lot of options ahead of him. He has offers from more than 30 schools. The Martin Luther King (Detroit) High School standout has watched the business of college football unfold in front of him over the last few months. He's talked to coaches who have taken new jobs and hears the rumors of others considering a similar path. Every player in the country is learning a valuable lesson on the recruiting trail.
"When you build a strong relationship with a head coach, through the years and all the talking," Moore said. "And they leave without telling you it's like 'Dang, man, really? Why at this moment?'
"But I do understand, coaches have to do their thing, too. They've got to take care of their families but it does make a real impact on us. It does make harder to build trust with [coaches.]"
So Dante Moore is trying to be patient. The coaching carousel may not be over so it makes sense to just watch and observe. There are no planned visits for January but he's beginning to sort out how he wants his recruitment to go from here.
"I was really just focused on my season so I didn't think about recruiting that much in the last few months," Moore said. "So I am going to start figuring things out. I don't have any plans for visits but I've got to start making my decision soon.
"I'll probably knock out official visits between the spring and summer."
It's yet to be seen if Ohio State will get one of those visits.
The Buckeyes don't get talked about much in the recruitment of Dante Moore, but the relationship is still growing.