Derrick Leblanc has seen it all at Ohio State, considers next recruiting steps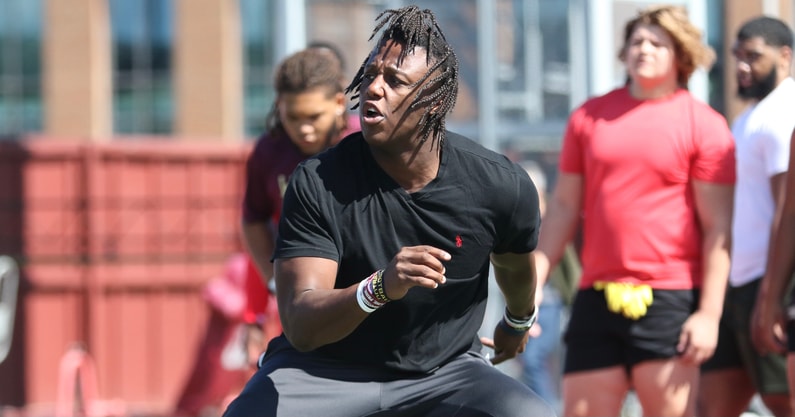 COLUMBUS – Derrick Leblanc made his way back to Ohio State for the third time this summer.
The third time, at least in terms of a Buckeyes commitment, was almost a charm. The 4-star defensive lineman from Osceola (Kissimmee, Fla.) High School admits he was close to pulling the trigger and ending his recruitment after the Buckeyes Bash & BBQ on Thursday afternoon.
"I didn't commit," Leblanc told Lettermen Row. "But Ohio State doesn't have anything else to show me. My people have always told me that if a school is right for you get there as many times as you can. As long as we've got the time and money I'll get back here as much as I can, for every event."
Thursday in Columbus was highlighted by fun and food, with an intense game of dodgeball against the Ohio State coaches mixed in. "Coach Hartline was the best for sure," Leblanc said. "The coaches beat us, but he was a beast.
It was also a chance for Leblanc to spend time with other top 2023 targets like Findlay (Ohio) lineman Luke Montgomery and Ohio State 2022 class leader C.J. Hicks. The Buckeyes junior linebacker commit was pushing hard for Leblanc to make his decision. He thinks it being the first commit could help him build a class like Hicks has done.
"It was cool to spend time with Luke, he was a cool dude. I mess with Luke and you know, iron sharpens iron,"  Leblanc said. "C.J. Hicks and I talked a lot, he was talking to me, asking me 'when are you going to be a Buckeye?'
'If I did that soon, I could help pick the other guys in the class like C.J. has."
A big group of Florida's best were in town with Derrick Leblanc. His interest in the Buckeyes could have side effects in the Sunshine State. Top players like 5-star running back Richard Young and highly-ranked 4-star offensive lineman Payton Kirkland are close with Leblanc.
"We all talk about it a lot," he said. "We could all go to the same school, like we could all come up and here make a big difference, just do great things for the program."
Ohio State, Alabama, Florida, Florida State and Georgia are among the leaders for Derrick Leblanc. He says a decision will come whenever he's ready.
"I could go home and decide to commit at any time," he said.
(Top photo: Derrick Leblanc via Birm/Lettermen Row)