Five-star 2024 quarterback Dylan Raiola commits to Ohio State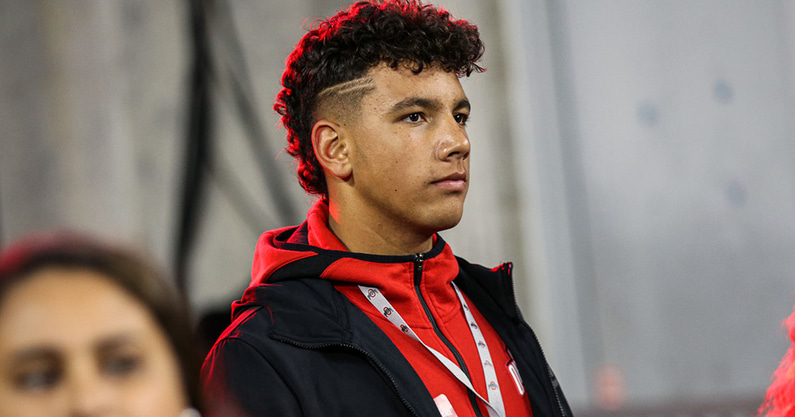 COLUMBUS — Five-star quarterback prospect Dylan Raiola has made his college decision.
He's committed to Ohio State.
Raiola, a 6-foot-3, 210-pound right-hander who plays at Chandler (Ariz.) High School, picked the Buckeyes on Monday — his birthday — and committed to Ryan Day and Corey Dennis ahead of USC, Georgia, Oregon, Texas and more than 20 other college programs.
Ohio State first welcomed in Dylan Raiola for a visit in October of 2021. The country's top-ranked overall prospect in the Class of 2024 checked out the Buckeyes home game against Penn State the day before Halloween. After a pair of spring visits in April of 2022, the relationship he'd built with the Buckeyes had grown to a point he was comfortable making his pick. He committed the day before the spring game and has now made it official.
"We had a meeting at noon with Ryan Day," Raiola said. "And I just knew once noon hit I was going to be a Buckeye. That just made me super excited. I couldn't sleep, couldn't sleep on the plane. I couldn't wait to get back up there and go see Coach Day and let him know."
Prior to his spring trips to Columbus, Raiola explained to Lettermen Row what was making Ohio State stand out to him.
"Coach Day is a very special coach, especially when it comes to developing quarterbacks," Dylan Raiola said. "And the way his offense is designed creates great opportunities for success in many different ways."
Ohio State quarterbacks coach Corey Dennis also impressed Raiola and his family.
"Coach Dennis has been great. It's a special relationship. We talk ball, we talk family and we just talk about how football is going in high school and about my development," he said. "When I was up there on campus for my game-day visit he just made it a priority to spend time with me. To me that means a lot because with such a big game [against Penn State] they made time to hang out with me."
Ryan Day's quarterback development and the chance to win a national championship was what first opened the eyes of Dylan Raiola. That's what he saw on his first visit and that is what set the tone for the Nebraska legacy's recruitment after that early trip.
"When I went when I first got there," Raiola said. "I went into a meeting with Coach Dennis and he just he told me that if you go to Ohio State, you're expected to win every game, to win the Big Ten championship and be in the talks for a national championship. And once I heard that I was like 'Man, this is what I'm about.' I'm about winning championships."
Ohio State wasted no time prioritizing Dylan Raiola. The young quarterback wasted no time in making his college decision and now he's commitment No. 1 for the Buckeyes in the Class of 2024.
Lettermen Row has spent the last few days in Arizona and talked to Raiola about his choice. Check out the video below.