Jadyn Davis enjoys Ohio State visit, being only QB recruit on campus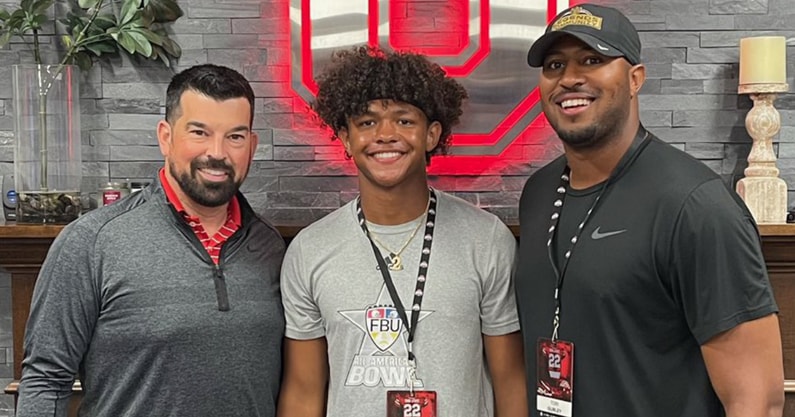 COLUMBUS – A return trip to Ohio State left no doubt that Jadyn Davis is a priority recruit for the Buckeyes.
The uber-talented 2024 quarterback came back to campus in Columbus on Thursday for a fun-filled afternoon of games, food and football conversation with Ryan Day, Corey Dennis and the rest of the coaching staff at Ohio State.
"I had a blast," Davis told Lettermen Row. "It really wasn't anything for me since I had already visited. But it was a good chance for my dad to meet the coaching staff and see the campus."
Just because it wasn't new doesn't mean it didn't do anything for Jadyn Davis. The young quarterback has an offer from Ohio State already and has been clear that, at least early on, he's felt pretty good about the Buckeyes. The Georgia native and now Fort Mill (S.C.) resident left feeling even better.
"My relationships with the coaches there is building and building even more," Davis said. "Not even just with Corey Dennis and Ryan Day, either. But with [receivers] Coach [Brian] Hartline and [running backs] Coach [Tony] Alford as well. They're all great men."
The majority of the day was spent with Day and Dennis though. The Buckeyes are dealing with a roster shaking situation with Quinn Ewers but it didn't impact the effort to recruit Jadyn Davis.
"Thursday really reinforced that I'm a priority," Davis said. "I was the only quarterback recruit that they had campus. That really meant a lot to me. It showed me that they really want me. I spent the whole day with Coach Dennis and a lot of time with Coach Day as well. I really enjoyed that."
Originally a 2023 prospect, Jadyn Davis is one of two 2024 quarterbacks holding an Ohio State offer already. The push, as early as it's happening, is a clear indicator that he's a name to keep watching close moving forward. He has already begun looking ahead to his next visit.
"Every person I've asked has said the Oregon game is going to be a fun one," Davis said. "It's the first home game at full capacity in a while so that'll probably be the game I go to if everything with my schedule works."
(Top photo: Jadyn Davis/Courtesy)