Joenel Aguero on Ohio State relationships, Sonny Styles, commitment timeline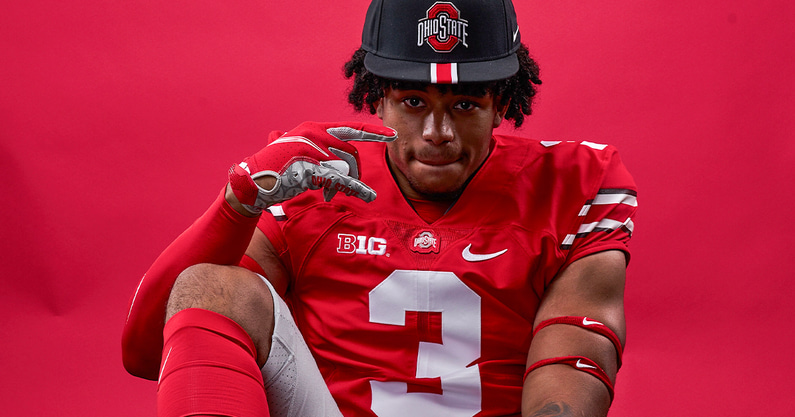 Ohio State football recruiting can be a wild ride full of twists and turns as recruits from all over the country maneuver their way to signing day. Lettermen Row is here to help navigate the tumultuous roads by getting to the heart of the matter with the young football players and Ohio State coaches and staff members themselves. Today's guest is 2023 safety Joenel Aguero, one of the Buckeyes top overall targets in that recruiting cycle.
---
When he was offered by Ohio State more than a year ago, Joenel Aguero told Lettermen Row he wanted to put Massachusetts on the map as a football-player producing state.
A year later, after taking a year to develop at the IMG Academy in Bradenton, Fla. the borderline five-star talent is ready to try again. Aguero announced on Twitter a few weeks ago that he's returned to his former high school, St. John's Prep in Danvers.
"It was pretty hard making that decision," Aguero told Lettermen Row. "I was going to be leaving a lot of things at IMG that I learned, coaches to development. But something that led me to come back was my family. I wanted to play in front of my family."
There are other difficult decisions that lay ahead for Joenel Aguero. His college future is rapidly approaching and he's beginning to narrow things down. There are a couple of schools standing out, including Ohio State and Georgia, but another handful of top options that have made coaching changes and thrown wrinkles into his plans.
Aguero visited the Buckeyes in June. It was his first visit with Matt Barnes and Ohio State, though it's a relationship that has been growing for a while. Barnes offered Joenel Aguero early in his career at St. John's Prep.
"It's really huge," Aguero said at the time of the offer. "It feels good honestly. I been talking to them since like January [of 2020.]"
How close is Joenel Aguero to a college decision? How have coaching changes impacted his recruitment to this point? What role does Ohio State seem him playing in its defense? How active has Sonny Styles been in recruiting him to this point?
The country's No. 3-ranked safety prospect talks about those things and more in the latest episode of Birminology from Lettermen Row.
Check out the video below and head over to the Lettermen Row YouTube Channel to see all the latest in Ohio State football and recruiting news.