If Justin Fields played full games, Heisman Trophy race would be over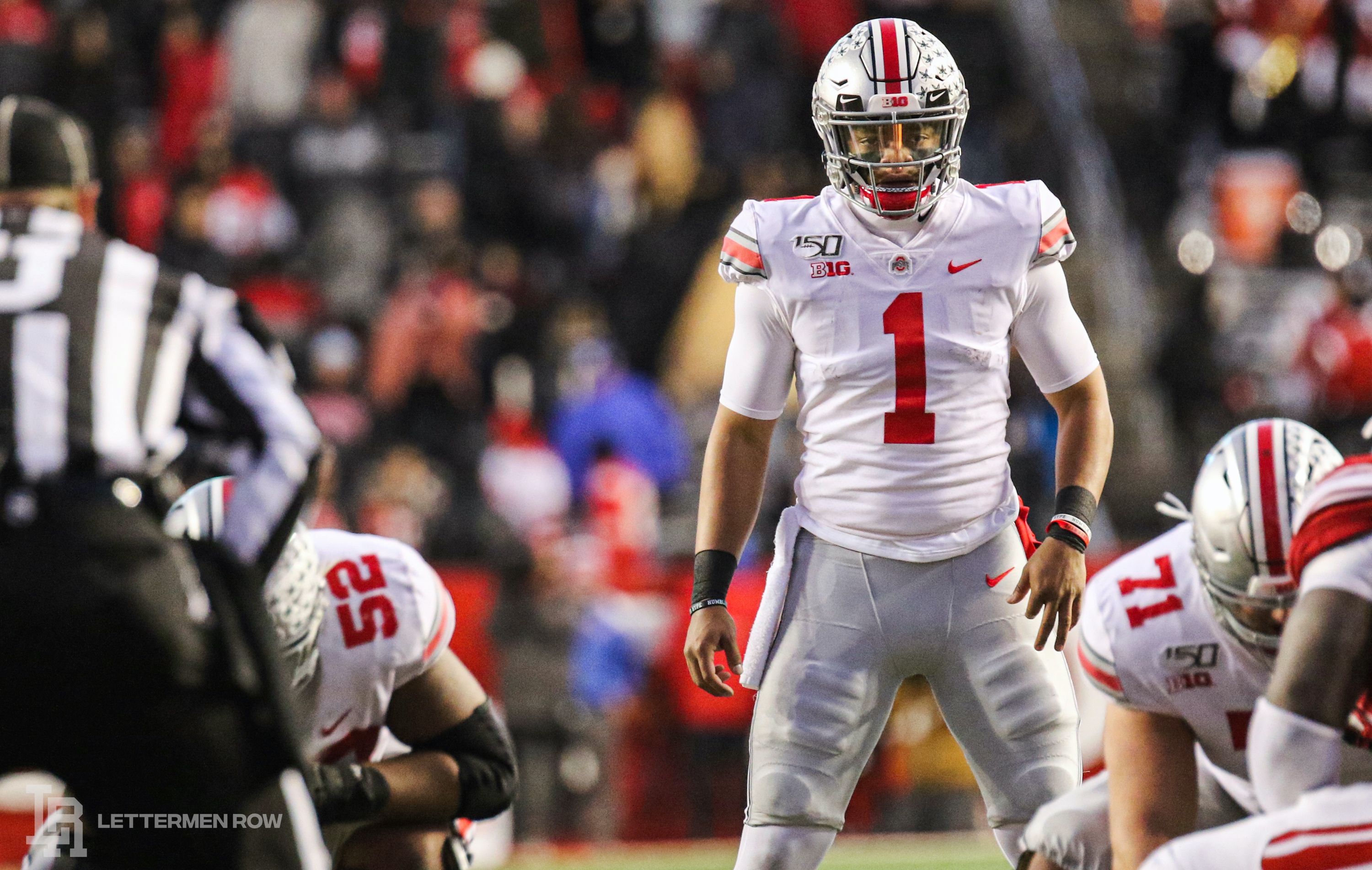 PISCATAWAY, N.J. — Justin Fields can do the math, and he knows what his numbers could look like for Ohio State.
The Buckeyes tossed the sophomore quarterback a bone on Saturday evening at Rutgers, giving him one extra series of work after halftime instead of putting him in bubble wrap on the sideline in yet another blowout. No surprise, Fields immediately led the offense down the field, delivered a pinpoint strike for a touchdown — and then took his seat on the bench.
That capper gave him a line that any passer would gladly take for a whole game: 335 total yards, four touchdowns and a 56-21 win that kept Fields undefeated for the No. 2 Buckeyes.
Now, imagine if actually got to play four full quarters once in a while. The Heisman Trophy race would be over and the engraver would already be working on adding his name to the statue.
"I have thought about that a few times," Fields said with a laugh. "I mean, I can't control that. I'm just glad I get to go out there and play with my guys, but I have actually thought about that.
"If [Chris Chugunov] and Gunnar [Hoak] can go get those snaps, I know they want to be in the game, too. I'm not going to be selfish with all those snaps, and I'm always going to listen to Coach Day when he pulls me out."
There was some thought that maybe that hook would come for Fields after the second quarter, particularly on a day when Alabama lost its own starter and Heisman candidate to a season-ending injury when the score wasn't really in any doubt.
The situation with Fields is a little different since he's a first-year starter, making every rep in a game important to his development as he still grows into his role leading a national-title contender. And against the Scarlet Knights, Ohio State easily could have rolled the dice a little longer if it really wanted to boost his chances of earning an invitation to New York City next month.
At the rate Fields is going, he might wind up there anyway as he heads into the final two weeks of the regular season having accounted for 41 touchdowns even with his relatively limited workload. And while it's a huge uphill climb with LSU quarterback Joe Burrow way out in front in the straw polling and the chance that Chase Young could restart his campaign when he returns next week, it's worth a reminder that the ridiculous dominance of the Buckeyes may have actually made it harder for their guys to win any individual awards.
Not that they care about that when the Big Ten title and the College Football Playoff are the goals they really want.
"Again, he only really played one half of football and the first drive of the second half," Ohio State coach Ryan Day said. "What did he have? 305 yards. J.K. [Dobbins] has 92 yards and we decided not to play him, even though he really wanted to play in the second half. We took those guys out, and it just goes to show you how unselfish they are.
"It's not about their stats. If you double those stats right there, [Fields] could throw for 500 or 600 yards. You know, if he's playing in those games and playing for four quarters, then they're saying he's right there for the leader in the Heisman. But because of the situation we're in, he's not getting those kind of reps. …. I don't think those guys should be penalized for that, because I think they're two of the better players in the entire country."
A third is on the way back for the Buckeyes now that Young is cleared, and it's once again fair to project that any one of them could represent the program at the Heisman ceremony.
A closer look at the snap counts for all three of them and their absurd production per play would truly make for compelling cases that Young, Dobbins or Fields could have been worthy winners. But there's still time, and maybe some competitive games over the next few weeks could help.
"I'm a competitive guy, so of course being out there on the field is important to me," Fields said. "It definitely makes me happy. But I just do what Coach Day tells me to do. I'm not really a selfish guy, so it's not like I'm asking him to play me more."
Besides, Ohio State is already getting Heisman-caliber numbers anyway — and Justin Fields can do it in half the time.