Buckeyes agree to terms, title with new assistant Justin Frye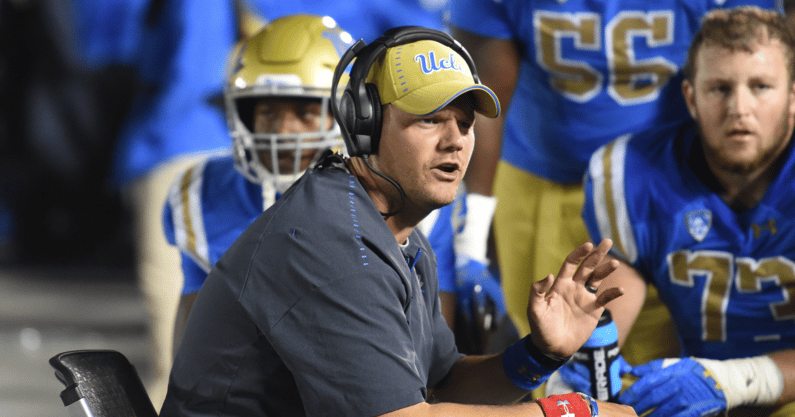 COLUMBUS — There was competition for Justin Frye.
Ohio State has officially won it, agreeing to terms and a title that offered the former UCLA offensive coordinator an intriguing package on top of his existing relationship with coach Ryan Day to join the program.
Frye will be the next offensive line coach for the Buckeyes, replacing the recently-fired Greg Studrawa leading a talented unit that is expected to have three starters back next season. And he will also be identified as the associate head coach for offense, a role that reflects the solid experience Frye brings to Ohio State following his decade-long rise in the profession.
Frye had been linked to other job openings in this offseason cycle. But Ohio State made him a top priority from the moment it became clear that change was needed on the offensive line, and Day had long coveted a chance to reunite with his former colleague if the opportunity ever presented itself.
"I am thrilled to welcome Justin, his wife, Lauren, and their family to Ohio State and the football program," Ohio State coach Ryan Day said. "Justin and I have worked on the same staffs together, and I've seen first-hand how good he is at developing his players as well building personal connections with them.
"I believe he'll do great things here to enhance his room and our offense as a whole." 
The Buckeyes clearly don't need major repairs on offense after leading the nation in scoring, and the pieces are in place for another explosive attack heading into Day's fourth season with the program.
But there were a few cracks in the foundation showing for Ohio State up front, and the offensive line wasn't quite as consistent as the program would like over the last couple seasons. There were occasional issues with pass protection two years ago, and that was followed up with some breakdowns in short-yardage and red-zone opportunities — which foreshadowed the upset loss to rival Michigan in November when the Buckeyes were completely dominated in the trenches.
Ohio State wasted no time in dedicating its offseason to making sure that doesn't happen again. And now Justin Frye has been confirmed as part of that effort moving forward.