Kamryn Babb working back from spring injury scare, 'bump in road'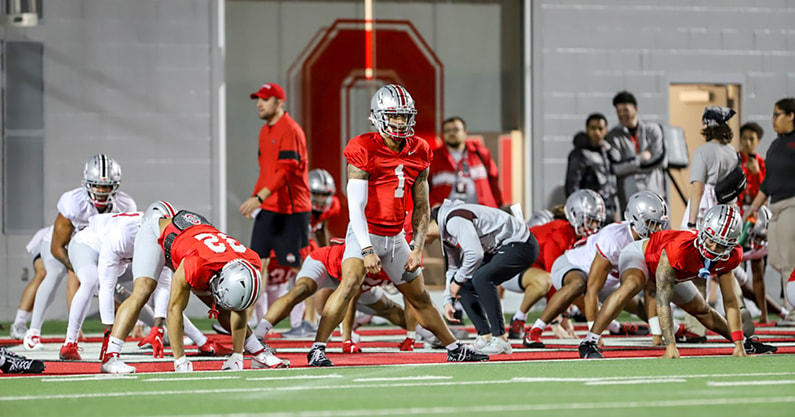 COLUMBUS — Given the incredibly rotten injury luck, Ohio State might always fear the worst when Kamryn Babb feels a little pain.
But it also makes the positive news seem even better when the Buckeyes get it.
After another apparent knee injury suffered in practice last week, the graduate wide receiver isn't likely to take part much for the rest of spring practices — if at all. But Babb doesn't appear to have any long-term concerns from the latest setback in a career that has been relentlessly plagued by a string of health issues, which was a huge sigh of relief for the Buckeyes after watching him thrive for roughly half of camp.
"He's been healthy," Ohio State coach Ryan Day said on Monday morning at the Woody Hayes Athletic Center. "You know, he had a little bump in the road that we were a little worried about. But it didn't come back as a big deal, so that was great.
"I thought up until that practice, he had been really practicing at a high level and really had a chance to have an impact on this offense. I think he will. We'll get him back in a couple weeks and get back to work."
The Buckeyes are already down to the final two weeks of workouts before heading into the summer offseason, so that doesn't leave much time for Babb to get back in pads after missing the last three practices.
Babb had been one of the feel-good developments on the practice field so far for Ohio State, finally getting a chance to flash the athleticism and play-making ability that made him one of the nation's top recruits at the position before suffering four knee injuries and a broken leg. The returning captain has been a prime example of the kind of work-ethic, perseverance and resilience the program holds up as a standard — and this time he won't have that tested for such an extended period of time.
"I could talk for hours about Kamryn Babb and what he's done," Ohio State coach Ryan Day said at the start of camp last month. "Being a captain and everything he's been through? We're Kamryn Babb fans around here. Everybody loves Kam. He had a really good [first] practice … and we'll just keep pushing forward.
"If he can stay healthy, he's going to have an impact on this offense for sure."
Kamryn Babb didn't make it all the way through at full strength.
But for this latest go around, Ohio State doesn't have to worry about his bad luck sabotaging another whole season for him.