Kye Stokes shakes off comparisons, preparing for critical second offseason with Buckeyes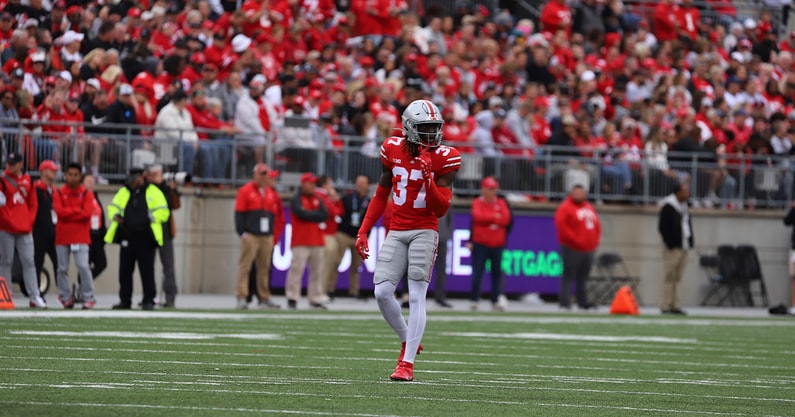 COLUMBUS — Even Kye Stokes can see the comparisons inside the Ohio State safety room.
Once Stokes splashed onto the scene as a true freshman last spring in camp and into the spring game, immediate shades of senior safety Josh Proctor began to be hurled at Stokes. And Stokes doesn't mind those comparisons, at all.
The way they play is similar. The way they are built is, too. Oh, and they're good friends off the field, as well.
"I think I do play close to the way Proctor plays," Stokes told Lettermen Row at Peach Bowl media day last month. "And it's crazy because before I got in, everybody was compare me to Proc and [saying] 'that's a Josh Proctor-type body.' And that's my best friend. I'm closest to him more than anybody on the team. So I do still think that's a fair comparison."
Similar? Yes. The same? No.
Ohio State defensive backs coach Perry Eliano isn't going to pigeon-hole Stokes into the same bucket as Proctor as far as how he coaches the young, under-recruited safety. Now a second-year player from Seffner, Florida, Stokes has a unique skillset.
Eliano has an idea on how he can get the most out of what Stokes brings to this Buckeyes safety-driven defense.
"Each individual guy is different," Eliano told Lettermen Row. "Each individual guy has his own skill set, each individual has his own mindset. Obviously you saw Kye flash in the spring, But you know, there's more to it than just the spring. There's summer workouts, there's the fall camp, there's a lot that goes into it. I've seen Kye grow from January to now. He's going to be a really good football player.
"I never tried to gauge one guy in comparison to another guy because the journey's are so different, the paths are so different. And they're different individuals. So you know, Kye's got his own unique skill set just like Proctor has his own unique skill set. And with both of those guys in the room, that brings a really, really great dynamic to the room. But they still are two different individuals."
Stokes echoed that sentiment about spring practice last March. He could tell that he was improving every day. And he certainly knew how impressive his spring game performance was, as did the Ohio State coaching staff.
But last year was always going to be about Stokes and his development.
"In spring, you only see so much," Stokes said. "And then once we got into the into the groove of fall camp and then into the season, I just realized and I got to see what it means to be a college football safety. Looking up to the older guys, it just showed me what I needed to work on."
Now with a year of watching, learning and developing behind three seniors and plenty of other veterans ahead of him, Stokes is locked in on a spring push for playing time. Ohio State has multiple starting safeties to replace.
Is he excited to make that push, similar to the move Proctor made in his second year with the Buckeyes?
"Yes and no," he said. "Yes, because obviously I want to make a push. But I know I have to just put my head down and keep working. So that's where my focus is right now."
The similarities will continue into this spring, especially after Proctor decided to return for a final year at Ohio State. Kye Stokes can see them.
But Stokes is his own player. And he is primed to make a second-year move up the depth chart.