Calm, confident Luke Wypler set for huge second season as Buckeyes center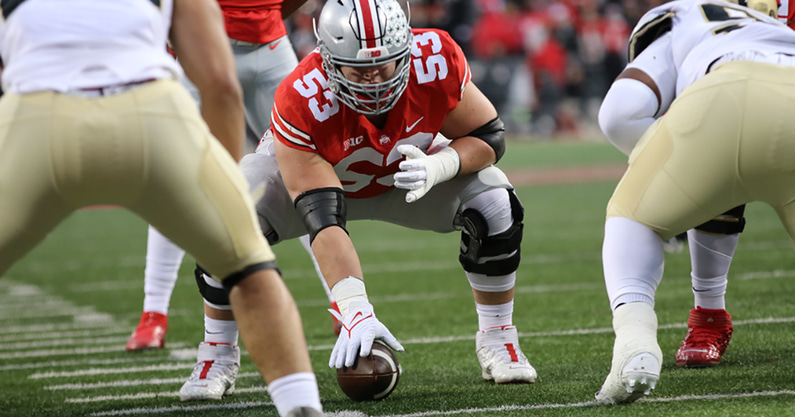 The summer offseason is in full swing, and Lettermen Row is trying to survive it with our annual Position Week breakdowns. By the time all nine units and coaching staff at Ohio State have been covered, training camp and media days will nearly have arrived, and the return of football in the Horseshoe will be just around the corner. Our positional weeks roll along with the talented Buckeyes offensive line unit.
---
COLUMBUS — Luke Wypler could see a change during the middle of his first season starting.
The talented center and catalyst of the Buckeyes offensive line was thrust into his starting role just days before the season-opening game at Minnesota. Nerves were to be expected.
By the middle of the Big Ten slate, Wypler was calmed down and playing his best football. He was one of the most impressive offensive linemen on the field last year.
Entering his first offseason as a full-time starter and gearing up for his second year in that role, Wypler can only continue to get better for the Buckeyes this fall.
"The first game, Minnesota, was kind of weird, going back and watching that," Wypler said in the spring. "I felt like a little kid watching it. As the year progressed, you kind of see once I got to the Rose Bowl, my presence on the field was a lot more calm. I wasn't looking around, bouncing around before every play.
"So I think just to settle down, the calmness of myself, I really noticed. … As the season went on, by Week 8, Week 9, when you're in the thick of it, going through the brunt of the Big Ten schedule, you really feel how much difference and how much confidence you start playing with."
That confidence was evident as the season progressed — and as spring practice unfolded. With new offensive line coach Justin Frye now leading the unit, the second-year starting center Wypler has a chance to take his game to the next level and become the next up in a long, historic line of centers to play at Ohio State.
He can already feel himself becoming better this offseason.
"The game is starting to slow down," Wypler said. "It's nice to play the game inside the game, now, start just using different techniques and doing different types of things to improve every day.
"I think after starting 13 games together last year, I think me and [quarterback C.J. Stroud] have a really good rapport with each other. We know what each other is thinking every play. So it's easy to kind of communicate without actually having to communicate."
Luke Wypler could already feel the speed of the game become less of a factor as his first year went on. Now with the full offseason, a fresh face to help him grow and plenty of motivation to get better every day, Wypler can help lead the Buckeyes offensive line. And he can carry on the tradition of dominant Ohio State centers.