Miyan Williams building steam in Ohio State backfield battle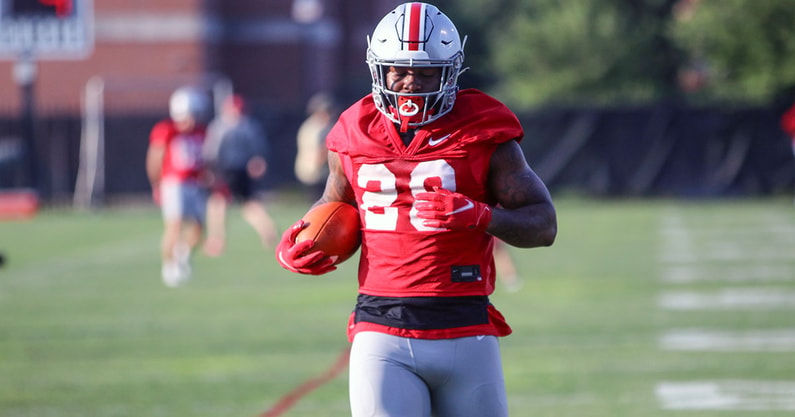 The speculation, debate and conversations about Ohio State never end, and Lettermen Row is always ready to dive into the discussions. All week long, senior writer Austin Ward will field topics about the Buckeyes submitted by readers and break down anything that's on the minds of the Best Damn Fans in the Land. Have a question that needs to be tackled, like the one today about Ohio State and the possibility of Miyan Williams starting at tailback? Send it in right here — and check back daily for the answers.
Heading into camp, the odds were already favoring somebody other than the incumbent veteran to take over the starting tailback job for Ohio State.
But it only took one practice for a new betting favorite to emerge.
Granted, the Buckeyes only opened up six periods for the media to watch on Wednesday morning, and it's a near certainty that there were meaningful reps for Master Teague to be had once the workout was closed for viewing. The fact that Miyan Williams was going first in those early, seal-breaking reps certainly seemed significant, though, because that pecking order isn't usually chosen at random — and tends to favor the more experienced players, particularly on Day One.
There's obviously a long way to go for the Buckeyes with one of the more fascinating position battles on the roster, and Marcus Crowley and TreVeyon Henderson will both have plenty to add to the conversation moving forward. But it's the often-overlooked Williams who appeared to be bursting out of the gate for the Buckeyes, and it won't be a surprise at all if his late-season surge a year ago carries over into a starting role next month at Minnesota.
"I think Miyan has worked really, really hard," Buckeyes coach Ryan Day said after practice on Wednesday. "If you look at his body right now, it's hard, he looks strong out there. He's worked really, really hard in the weight room. When he had an opportunity last year, he did a good job with a couple runs — certainly the big run against Clemson that he had.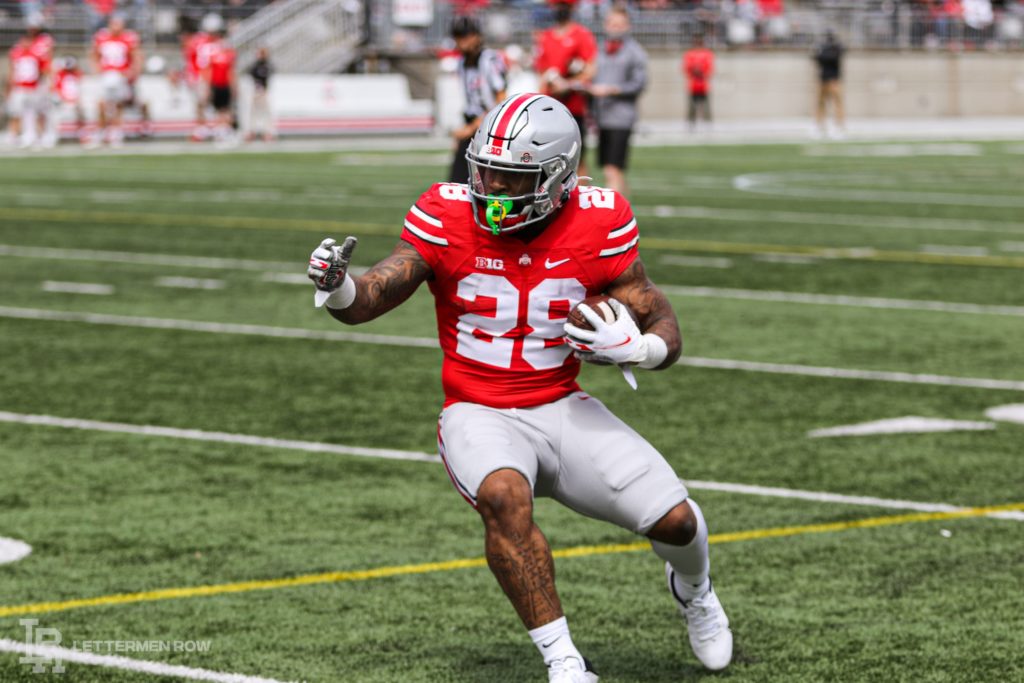 "But we'll still wait to see how it goes. I thought his pass protection in the spring was excellent, and we've got to keep building on that. For a guy who was a little bit under the radar coming in, he's made a big impact."
Williams hasn't had all that many chances to leave a mark yet in his career, though he's clearly made the most of the few so far at Ohio State.
He only has 10 carries under his belt in four appearances. But he provided a jolt of electricity with an eye-opening 15-yard rush against Clemson, a 10-yarder in the Big Ten title game off the bench and some efficient work with a five-attempt, 28-yard cameo at Michigan State. If not for a positive Covid test before the national championship, it's a virtual certainty that Williams would have been heavily involved for the Buckeyes against Alabama after Trey Sermon was injured on the opening drive.
The sample size is obviously small, both in terms of what Williams did as a freshman and in just a handful of periods of practice on Wednesday. With Teague's experience, leadership and proven success as a powerful short-yardage finisher, there's no doubt going to be a role for him in the offense. But it's also not a surprise that Ohio State would be expanding the search looking for a more dynamic, all-purpose weapon at tailback — and this month will be critical for position coach Tony Alford to evaluate his options.
Miyan Williams was at the head of that line to start the month. Now the work really begins if he wants to stay there in September.
Miss any previous editions of Question of the Day? Catch up right here.