Four-star Ohio State receiver target Noah Rogers narrows school list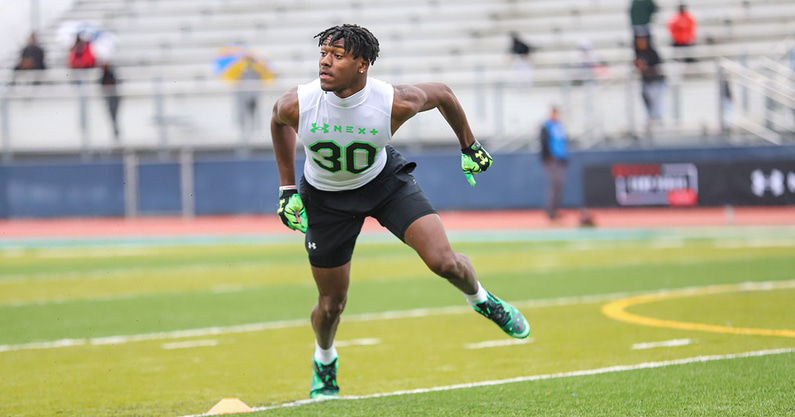 COLUMBUS — The race for a commitment from four-star receiver Noah Rogers is coming to an end.
The country's No. 8-ranked wideout narrowed his top schools down to just five Thursday. Ohio State, led by receivers coach Brian Hartline, is joined on the list by North Carolina State, North Carolina and Florida State and Clemson.
Rogers made his only visit with the Buckeyes in Mid-April. That was for the Ohio State spring football game and following that trip, Hartline and the Buckeyes emerged as the presumptive favorite for his eventual commitment. That commitment still hasn't been set yet, however.
The relationship with Ohio State really ramped up in January of this year. The approach deployed by Brian Hartline caught the attention of Noah Rogers.
"I like how he recruits a little bit differently," Rogers said. "He's just really chill about it. It's never too much about football. He's just really cool and all that. I like what we've got going on."
The Buckeyes are in good position to once again strike gold at receiver. Rogers, 6-foot-2 and 185-pounds, would give Hartline and Ohio State another talented weapon on the outside. The Buckeyes are recruiting up to four different wideouts in the 2023 recruiting cycle and if they're able to land Noah Rogers all attention will turn to Florida standouts Brandon Inniss and Carnell Tate.
The Buckeyes are a big leader in the recruitment of Rogers according to the On3.com Recruiting Prediction Machine. The RPM uses machine learning on factors just as visits, distance from home and other variables combined with analysts predictions to give the best analysis about a recruit's potential college choice.
We'll find out soon enough if that is correct for Noah Rogers. Although no commitment date has been set, there are only five contenders remaining.