Buckeyes signee Bruce Thornton named finalist for major Player of Year award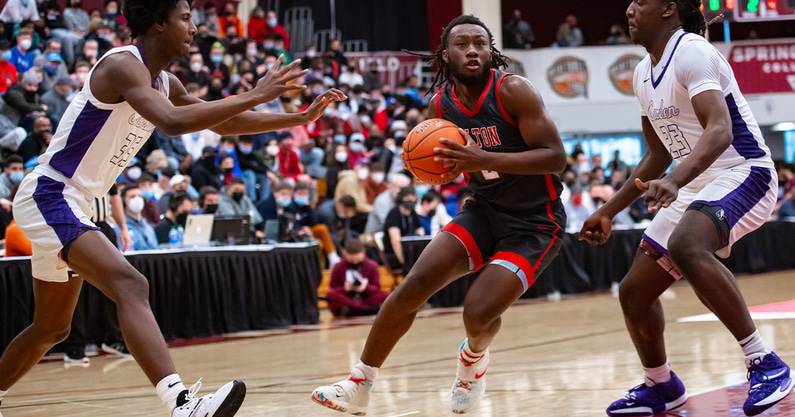 Bruce Thornton has already signed his Letter of Intent to play at Ohio State.
But he's not quite done being a superstar at the high school level.
Thornton was named as a Sports Illustrated All-American Player of the Year finalist on Wednesday. He is one of 46 seniors who are up for the award, and he is the only Buckeyes signee.
"We are really excited to add Bruce to our program," Holtmann said after Thornton signed his Letter of Intent. "During the recruiting process, we had a front row seat to his work ethic and his ability to impact winning at the highest level," Holtmann said. "Combine that with who he is as a person and the support around him, there is no doubt that he fits perfectly in the Scarlet and Gray. Bruce exemplifies the toughness, skill, and leadership combination that we look for in our guards and Buckeye Nation is going to love watching him."
A 6-foot-2, 195-pound guard and top-ranked player from the state of Georgia, Thornton is expected to compete for a starting role immediately when he arrives at Ohio State, especially with the talent the Buckeyes lose off this year's team. He has the skillset to do so. That's still being shown at the high school level, where he is racking up accolades before arriving at Ohio State.
Buckeyes signing class among best in country
Thornton is one of five high school seniors to sign with the Buckeyes as part of the class of 2022. Ohio State signed the No. 16 class in the country, according to the On3 team basketball rankings. The class also includes four-star center Felix Okpara, four-star shooting guard Bryce Sensabaugh, four-star shooting guard Roddy Gayle Jr. and three-star forward Bowen Hardman.
The future appears to be bright for Chris Holtmann and Ohio State. Led by Thornton, the 2022 class has a chance to be special.