Three Keys for Ohio State hoops in tough road matchup at Indiana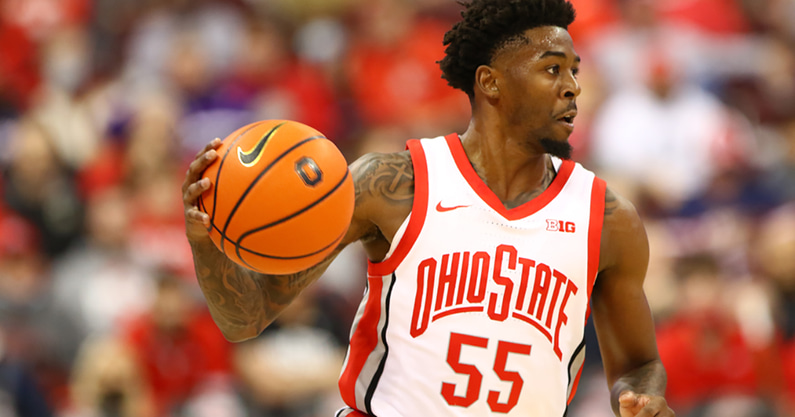 COLUMBUS — Ohio State will finally get a true taste of life on the road in Big Ten play.
The Buckeyes are 3-0 so far in the league, and two of those wins have come on the road at Penn State and Nebraska. Two good wins for a young team that hasn't traveled to packed arenas much — especially since they were all empty last season.
But this young Buckeyes team hasn't faced an environment like Assembly Hall in Bloomington, where they'll take on Indiana on Thursday night at 7 p.m.
The Hoosiers are a tough, physical team. And they present Ohio State with the toughest conference challenge yet.
"This is a team that certainly could be a top 25 team," Ohio State coach Chris Holtmann. "I believe they're that good. So I think for us, we need to have an understanding of what we're going into — our players, and particularly our young guys."
Ohio State will have to weather the storm that comes with playing at Assembly Hall in Indiana. It won't be easy to get back to Columbus with a win and a still blemish-free record in Big Ten action. Lettermen Row is breaking down how they can do so with three keys to a Buckeyes win.
Continue shooting well from beyond the arc
Consistency from 3-point range is certainly easier said than done. But the Buckeyes have found it in spurts this season. And against Nebraska, they were sharp from beyond the arc. Ohio State might not want to expect Malaki Branham to make six 3s as a recipe for a win, but if he can stay hot, the Buckeyes will be better because of it. Justin Ahrens and Jamari Wheeler have been shooting well, and if Kyle Young can play, he provides a deep threat, too. Ohio State can't rely on being 47 percent from 3 like it was at Nebraska — but shooting well would go a long way in walking out of Assembly Hall with a win.
Ohio State faces challenge against Indiana front court
Zed Key, E.J. Liddell and Kyle Young have formed a good front court for Ohio State through the first half of the schedule. But they face a big test Thursday night, and they might have to do it without Young, whose status is still uncertain. Indiana forward duo Trayce Jackson-Davis and Race Thompson will test Key, Liddell and, potentially, Young. Are the Buckeyes ready for that challenge? They'll need to be at their best against one of the top tandems in all of the Big Ten.
Buckeyes must take care of basketball
Ohio State is near the middle of the pack nationally in turnovers per game, giving the ball away 12.8 times per contest. The Buckeyes certainly need to improve on that, and Indiana might be the best team to do so against. The Hoosiers are No. 254 nationally in turnovers forced, so the Buckeyes might have a favorable matchup. Ohio State doesn't have the veteran guards it had last season, so turnovers naturally will be up this season compared to last. But if the guards can get better as Big Ten play gets into full swing, the Buckeyes can be one of the best teams in the league. That can all start Thursday night with a strong showing — and fewer turnovers.