Former Buckeyes forward Justin Ahrens commits to Loyola Marymount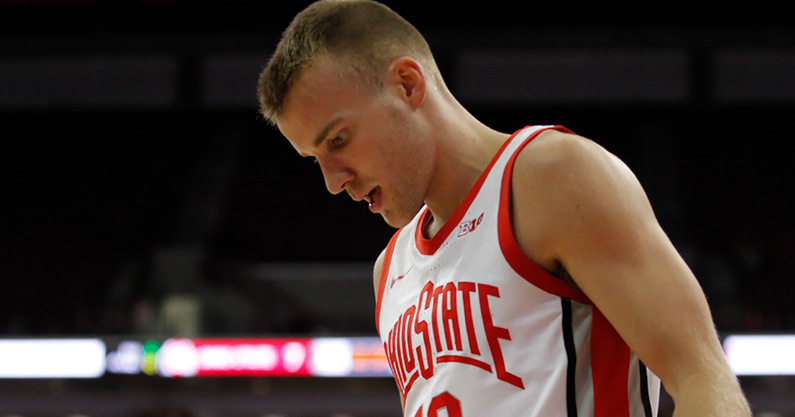 COLUMBUS — Former Ohio State forward Justin Ahrens has found a new home to finish his college career: he is transferring to Loyola Marymount.
The senior will have one year of eligibility remaining after using four at Ohio State.
Ahrens became one of the Big Ten's top sharp-shooters during his career with the Buckeyes. He averaged 4.3 points per game and 1.9 rebounds per game in four seasons at Ohio State, but he struggled during his senior season in which he shot just 35.4 percent from 3-point range, the lowest percentage in his four years. During his junior campaign, Ahrens hit 42.5 percent of his shots from beyond the arc.
The senior guard walked on Senior Day and talked extensively about the end of his Ohio State career. But he never officially closed the door on his time in college basketball coming to a close. Ahrens will have one year of eligibility remaining, due to the extra year granted by the NCAA due to the COVID-19 pandemic.
A three-star small forward from Versailles, Ohio, Ahrens committed to Ohio State in the class of 2018 along with now-Indiana Pacers star Duane Washington Jr. Ahrens was the final member of that 2018 class to leave the program.
Ahrens wasn't the only Ohio State player to depart the program after the NCAA Tournament loss in March. The Buckeyes also lost Cedric Russell, Kyle Young, Jamari Wheeler, Joey Brunk and Jimmy Sotos to graduation. Meechie Johnson entered the transfer portal and committed to South Carolina. E.J. Liddell and Malaki Branham both left school early for the NBA Draft, where they are both expected to be first-round picks.
Ahrens spent four years with the Buckeyes program, seeing his fair share of ups and downs. After a lengthy career at Ohio State, he has decided to move on to a new challenge, one that will come out west at Loyola Marymount.