Scarlet Sunrise: Former Buckeyes forward Kyle Young retires from basketball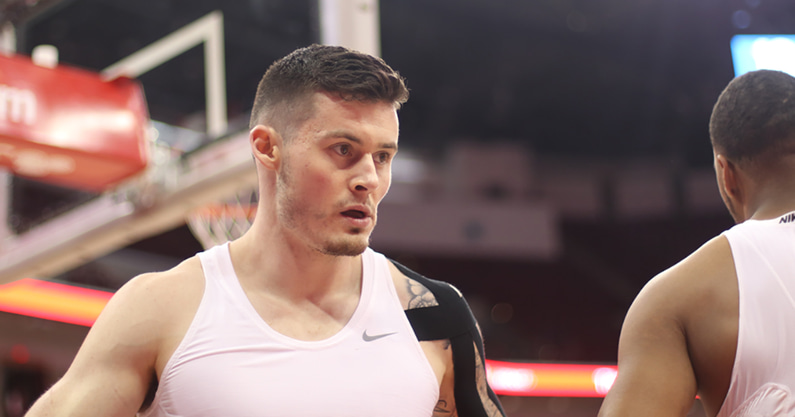 Good morning, Ohio State fans, and welcome to the Scarlet Sunrise. Football will always be our focus, but every day we'll cover news, notes and analysis from across Buckeyes sports. Join us each morning to get caught up on everything you missed in the world of Ohio State football, recruiting, basketball and more in Scarlet Sunrise.
Former Buckeyes forward Kyle Young retires from basketball
Kyle Young was a staple of the Ohio State hoops program for the last five years.
He graduated from Ohio State and ended his time with the Buckeyes program, and now he is officially done playing basketball for good. Young announced Thursday that he won't pursue professional basketball options, and he is done with his playing career.
Young suffered a variety of injuries during his career and missed time at different points in the last five years. He battled through concussions in each of the last two seasons — and fought to get back on the court after plenty of other ailments.
So he decided Thursday to hang his shoes up for good. Young's time with the Buckeyes was already finished. His time with basketball now is, too.
Four-star Ohio State receiver target trims school list
Noah Rogers, the country's No. 8-ranked wideout, narrowed his top schools down to just five Thursday. Ohio State, led by receivers coach Brian Hartline, is joined on the list by North Carolina State, North Carolina and Florida State and Clemson.
Rogers made his only visit with the Buckeyes in Mid-April. That was for the Ohio State spring football game and following that trip, Hartline and the Buckeyes emerged as the presumptive favorite for his eventual commitment. That commitment still hasn't been set yet, however.
The Buckeyes are in good position to once again strike gold at receiver. Rogers, 6-foot-2 and 185-pounds, would give Hartline and Ohio State another talented weapon on the outside. The Buckeyes are recruiting up to four different wideouts in the 2023 recruiting cycle and if they're able to land Noah Rogers all attention will turn to Florida standouts Brandon Inniss and Carnell Tate.
The Buckeyes are a big leader in the recruitment of Rogers according to the On3.com Recruiting Prediction Machine. The RPM uses machine learning on factors just as visits, distance from home and other variables combined with analysts predictions to give the best analysis about a recruit's potential college choice.
READ: Four-star Ohio State receiver target Noah Rogers narrows school list
ICYMI: Pair of former Buckeyes stars invited to NBA Draft Combine
Buckeyes superstar forward E.J. Liddell and freshman sensation Malaki Branham were both officially invited to the NBA Draft Combine on Tuesday, another sign that both will be selected in the draft later this summer.
The NBA Draft Combine will begin Monday, May 16 in Chicago and will end May 22 after days of workouts. The NBA Draft will take place June 23 inside the Barclays Center in Brooklyn.
For the Buckeyes, the draft will be huge for the program, another sign that Chris Holtmann and the coaching staff are developing plenty of next-level talent during their time with the Buckeyes.
Branham has been projected as a first-round pick, and he is beginning to rise on draft board. He could be a lottery pick if he has a good NBA Draft Combine. After three years at Ohio State, Liddell has been projected to be drafted late in the first round or early in the second round. He could certainly use a good pre-draft process to bolster his stock.
READ: Malaki Branham, E.J. Liddell invited to participate in NBA Combine
Are you subscribed yet?
Are you ready to get all your latest Ohio State news in one place? Become a member of Lettermen Row today. With your Lettermen Row/On3+ membership, you'll not only have access to the everything that's happening with the Buckeyes, but you'll also be able to peruse other fan sites within the network to hear just how rivals are feeling about Ohio State, as well. Make sure to follow along on Twitter, Instagram and on Youtube for all the latest Ohio State news you need to know.