Three-star in-state center Austin Parks commits to Ohio State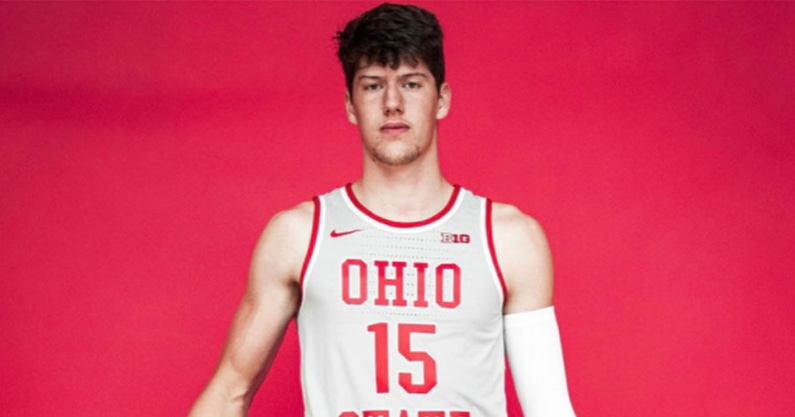 COLUMBUS — The potential is evident at first glance of Austin Parks.
He has decided to trust Ohio State in helping him maximize it.
Parks committed to the Buckeyes on Sunday at a ceremony at his high school. The 2023 three-star center from St. Mary's Memorial High School chose the Buckeyes over Indiana. He also held offers from Dayton, Illinois, Michigan State, Cincinnati and other midwest powers.
A huge 6-foot-10 and 240 pounds as a junior, Parks will immediate size to the Buckeyes roster when he arrives. And while he may need time to develop and become a key contributor, Parks has drawn comparisons inside the Buckeyes program to the type of player Kaleb Wesson was for the Buckeyes.
Ohio State has a promising start to its 2023 recruiting class with the addition of Parks. He joins with four-star guard George Washington III in the class that might be a smaller group. After taking five players in the highly-ranked 2022 class, Ohio State may not find another class that big in the next cycle.
But with Parks in the fold, Holtmann and the Buckeyes can certainly expand their efforts to bring in another elite class.
"I think we can continue to have classes like [the 2022 class]," Holtmann said back in November when he met to discuss the 2022 signees. "Maybe not always in numbers, because you're not always going to bring in five freshmen. But there's no question we can continue to have classes of this caliber."
Ohio State has already made an effort to add size to its future lineups with the signing of Felix Okpara, a 6-foot-11 center in the 2022 class. He'll have a chance to help Zed Key as an inside anchor of the program moving forward.
Austin Parks is the latest member of that attempt to continue building big men for the future. And he brings plenty of potential with him.