Chris Holtmann will coach Buckeyes at Wisconsin after one-game absence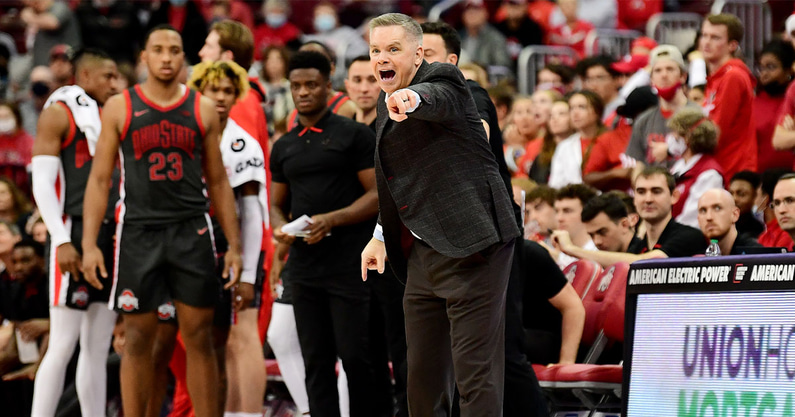 COLUMBUS — Ohio State already earned one Big Ten win without its head coach.
While Chris Holtmann watched from his living room due to a positive COVID test, the Buckeyes beat Northwestern.
But when they travel to Wisconsin, they'll have their head coach and his top assistant for the ranked showdown. Holtmann and Ryan Pedon both expect to clear those health and safety protocols, paving the way for their return to the bench Thursday when the No. 16 Buckeyes take on No. 13 Wisconsin at 7 p.m. in Madison.
They won't travel with the team on Wednesday and will continue to meet virtually until Thursday, when they are scheduled to meet the team in Wisconsin.
"I'm following protocols," Holtmann said Wednesday. "And I'll be able to return to the team tomorrow morning."
It wasn't easy for Holtmann to be away from the team for five days, and it wasn't fun for him to watch Ohio State from afar as it played in a game. But five days and one game was enough time missed for the fifth-year coach.
Despite missing Holtmann and Pedon, the Buckeyes were able to earn a tough home win over a scrappy Northwestern team. Assistant coach Jake Diebler become the acting head coach for that game, and he certainly did a fine job leading Ohio State without their head coach.
But the Buckeyes won't have to worry about Holtmann missing another game, staring at his television from the living room or being away from the team.
Holtmann and Ohio State have already beaten the Badgers once this season, in a 73-55 home blowout on Dec. 11, just days before a long COVID-caused pause for the Buckeyes. E.J. Liddell scored 28 points in that win, and Holtmann was there to see it all.
And he won't miss the rematch on the road, either. After missing one game, Chris Holtmann has cleared the protocols, and he'll make the trip to Wisconsin.