Buckeyes drop in latest AP Poll after inconsistent week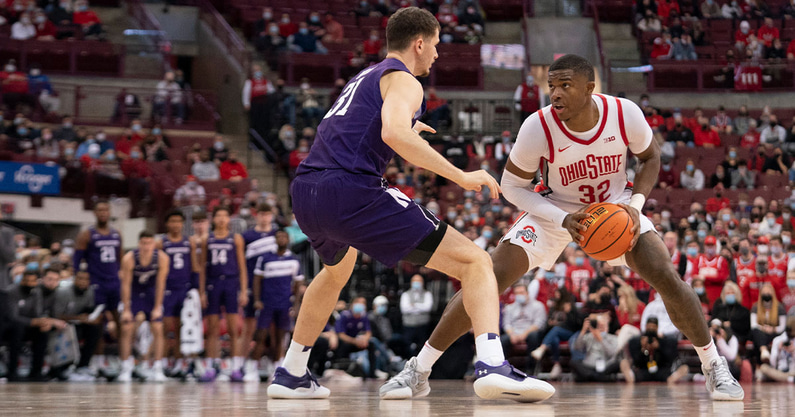 COLUMBUS — Ohio State has battled through some adversity throughout the last month.
It didn't end because the Buckeyes were back on the floor, though. Just a week after returning to action for the first time in three weeks, the Buckeyes needed to bounce back from a tough loss — without their head coach.
They weathered that storm in a win over Northwestern.
And after the rocky 1-1 week, Ohio State checked in at No. 16 in the latest AP poll, which was released Monday. The Buckeyes moved down three spots in the poll due to their road loss to Indiana before the win over Northwestern.
Baylor remained in the top spot after staying unbeaten with a win in the last week. Gonzaga, UCLA, Auburn and USC rounded out the top five. Five Big Ten teams are currently ranked as league play is in full swing for one of the top conferences in all of college basketball.
For Ohio State, the win over Northwestern was a big one. Coach Chris Holtmann was at home due to health and safety protocols, and his top assistant, Ryan Pedon, was also unavailable. Jake Diebler became the acting head coach, and he earned his first career win. But he isn't taking credit for it.
"Coach Holtmann's ability to build this program and the culture of this program," Diebler said. "Combined with the upperclassmen that we have that have been through some battles, we felt like if anyone was built to withstand this adversity, we felt like it was us."
Ohio State did withstand the adversity. And now it heads into an uncertain week for its head coach as the No. 16 team in the country.
The full AP Poll can be found below.
AP Top 25 (Jan. 10)
Baylor (61 first-place votes)
Gonzaga
UCLA
Auburn
Southern California
Arizona
Purdue
Duke
Kansas
Michigan State
Houston
LSU
Wisconsin
Villanova
Iowa State
Ohio State
Xavier
Kentucky
Texas Tech
Seton Hall
Texas
Tennessee
Providence
Alabama
Illinois