Three Keys to win as Buckeyes go for season sweep of Wisconsin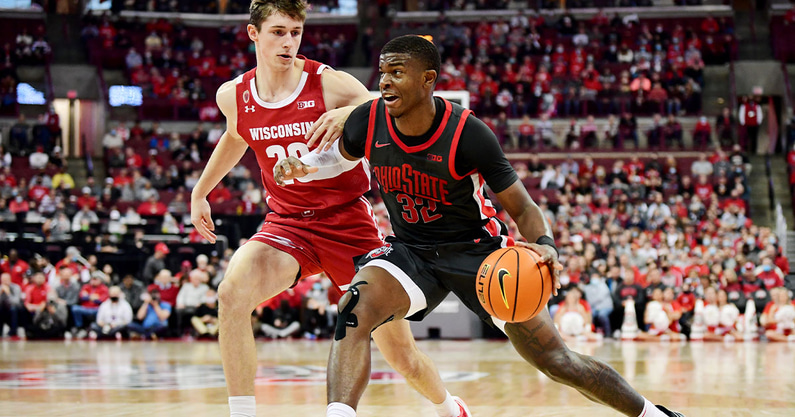 COLUMBUS — Ohio State knows the rematch won't play out the same way.
Yes, the Buckeyes beat Wisconsin by double digits last month in what can be called their best performance of the season. And yes, the Buckeyes have gotten better since that romp of the Badgers.
Don't expect an easy road test Thursday night inside the Kohl Center, though.
"It might have been as well as we've played all year," Ohio State coach Chris Holtmann said. "I think you could put it up there with the Duke and Seton Hall games in terms of how well we played. We have a really tough stretch here, the next couple of days. … They've only lost once this year with Davis, their All-American, in the lineup, and that was at our place. I have a lot of respect for them as a team. …
"It's going to be as big a challenge as we've played all year."
Ohio State will need to play at a high level if it wants to sweep the season series against the Badgers, who haven't lost since the last time these two teams met.
The rematch is officially here, and Lettermen Row is breaking down the rematch between the Buckeyes and Badgers with three keys for an Ohio State win.
Buckeyes must match physicality of Wisconsin again
Simply put, Ohio State dominated the first matchup against the Badgers — and not just on the scoreboard. Yes, the Buckeyes walked away with an 18-point home win over a ranked opponent, but they also showed a physical side of them that can be of good use the second time around. Ohio State out-rebounded Wisconsin 49-28, punishing the Badgers on the glass. Zed Key was a huge part of that, grabbing nine rebounds to go with his 11 points and making sure Wisconsin didn't set the tone of the game. Replicating that effort on the boards won't be easy. But that's exactly what the Buckeyes need to do.
Ohio State needs solid defensive effort on Badgers star Johnny Davis
If E.J. Liddell is at the top of the leaderboard for Big Ten Player of the Year right now, Wisconsin's Johnny Davis is with him. Davis has been an elite player for the Badgers all season, including the first time these two teams met in December. Ohio State gave up 24 points to Davis, who scored nearly half of the Badgers points in the first meeting. Assuming the rest of the Wisconsin offense will play better the second time around, Ohio State will need to do a better job defending Davis — or the Buckeyes could find themselves in a high-scoring affair.
Getting scoring boost from Kyle Young can be huge for Buckeyes
Ohio State has never relied on Kyle Young being a top scoring option in its offense. But the Buckeyes found out just how valuable an offensive boost from its senior forward can be in the first eight games of the season, when he posted five double-digit efforts. Since then, however, Young is averaging just 4.6 points per game in his last three games, certainly not the trend he wants to see in his final college basketball season. Young and the Buckeyes went through the long pause in December, and he missed an additional game due to a non-COVID related illness after that. So maybe his condition will continue to improve and he'll get back to scoring against the Badgers. Young elevates the Buckeyes offense when he's scoring, and they could definitely use it Thursday evening.