C.J. Stroud earns national Player of the Week honor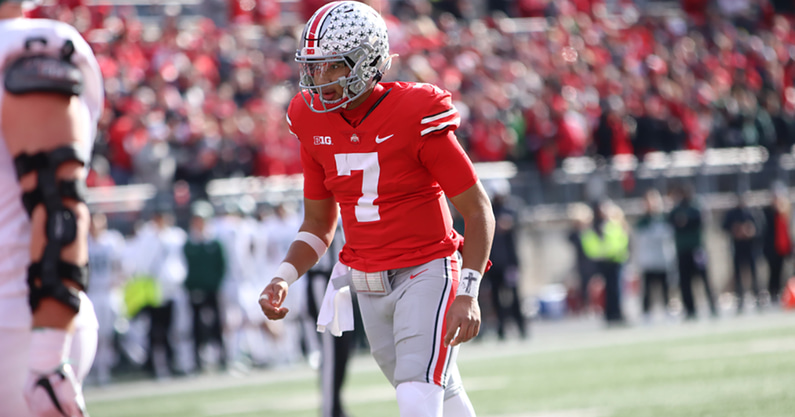 COLUMBUS — C.J. Stroud was nearly perfect for Ohio State on Saturday against Michigan State.
On Sunday, the redshirt freshman quarterback became the first Buckeyes player to win the Walter Camp National Player of the Week award because of that performance.
Stroud matched an Ohio State record with six touchdown passes and established a new school mark when he completed 17 consecutive passes in the first half against the No. 7 Spartans.
"They did some good things on defense," Stroud said post-game. "We knew we had to be prepared for it. And really everything that we thought we were going to get, we kind of got, so it was good just to come out there and execute at a high level."
An emerging Heisman Trophy favorite, Stroud played just one series in the second half against Michigan State. Still, he stuffed the stat sheet and finished the day with 432 yards passing and those six scores. He threw just four incomplete passes on the afternoon. It was a performance that impressed Ohio State head coach Ryan Day.
"He's accurate down field, he doesn't make guys work for the ball," Day said of Stroud. "He plays catch and certainly our receivers are excellent and they create a lot of separation and make a lot of plays.
"But C.J. is special."
Stroud will get his next chance to prove how special he is when Ohio State heads to Ann Arbor, Michigan to play No. 6-ranked Michigan next Saturday. It will be the first game for Stroud against the rival Wolverines and a chance to cement his likely Heisman invitation. It's an invite that Lettermen Row senior writer Austin Ward says he's definitely earned.
"The physical and mental growing pains of September are firmly in the rear-view mirror," Ward wrote. "C.J. Stroud is proving with every passing week why the Buckeyes were so confident that they had the right guy at quarterback.
"Stroud is on the kind of record-setting tear that the program has rarely, if ever, seen — and he almost certainly punched a ticket to the Heisman Trophy presentation on Saturday with a virtuoso performance against Michigan State."
The Buckeyes are hoping for an encore in Ann Arbor.