More Ohio State football game times announced including primetime game with Toledo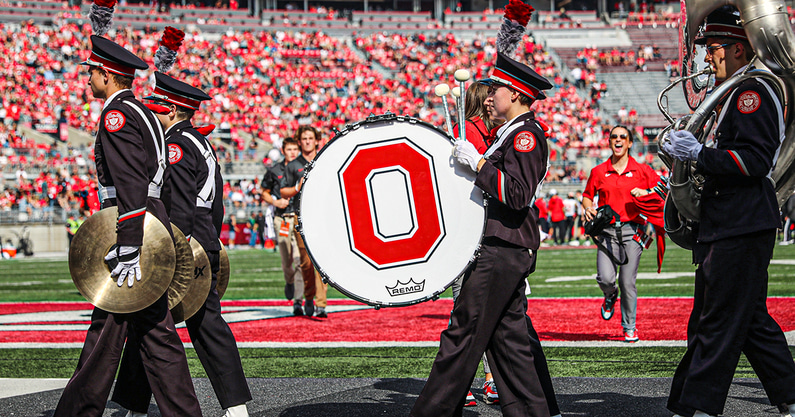 COLUMBUS — There are 100 days until Ohio State football kicks off the 2022 season against Notre Dame.
Just about nine days ago it was announced that that game would be a primetime kickoff under the lights of Ohio Stadium.
On Thursday, kick off times for five-more Buckeyes games — and the affiliated TV network — were released.
After the season-opener with Notre Dame, Ohio State will return to the Horseshoe the next three weeks against Arkansas State, Toledo and Wisconsin. The Buckeyes won't be on the road until the second week of October.
2022 Ohio State football schedule, game times and TV information
Sept. 3 • Notre Dame • 7:30 p.m. • ABC
Sept. 10 • Arkansas State • 12:00 p.m. • BTN
Sept. 17 • Toledo • 7:00 p.m. • FOX
Sept. 24 • Wisconsin • TBD • ABC
Oct. 1 • Rutgers • 3:30 p.m. • TBD
Oct. 8 • at Michigan State • TBD • TBD
Oct. 15 • OFF
Oct. 22 • Iowa • TBD • TBD
Oct. 29 • at Penn State • TBD • TBD
Nov. 5 • at Northwestern • TBD • TBD
Nov. 12 • Indiana • TBD • TBD
Nov. 19 • at Maryland • TBD • TBD
Nov. 26 • Michigan • 12:00 p.m. • FOX
The 2022 schedule is slowly but surely filling in and it shapes up nicely for Ohio State. There are reports that the Penn State game in late October, usually a night-time "white out" game for the Nittany Lions, is expected to be featured on FOX as its "Big Noon Kickoff" game. That would be a welcome respite for the Buckeyes if it is correct.
If Ohio State finds its way back to Indianapolis for the 2022 Big Ten championship game, that will be an 8:00 p.m. kickoff on FOX.
As the rest of the Buckeyes schedule unfolds, we'll continue to update it here on Lettermen Row. Ohio State student tickets went on sale this week. There are a number of big-time home matchups on the calendar this fall and some are finding crazy ticket prices, especially for the season-opener between Ohio State and Notre Dame.