Buckeyes missing two key starters for season opener at Minnesota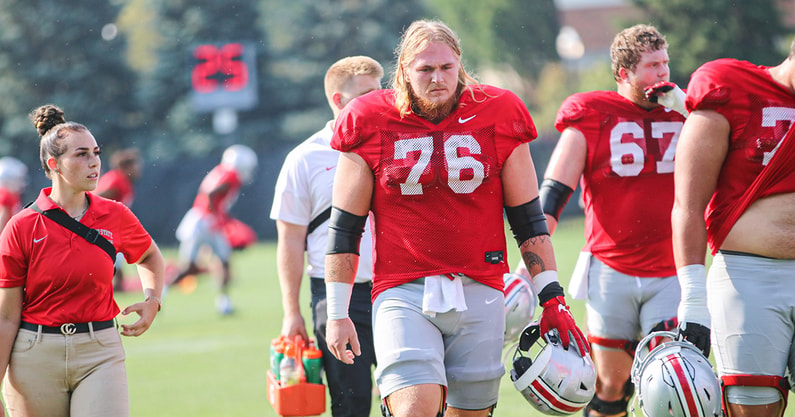 MINNEAPOLIS — Ohio State didn't make it out of training camp completely healthy.
The Buckeyes are certainly close to full strength, including getting a handful of projected starters back from nagging injuries that slowed them down in August. But the four-time defending Big Ten champions will be missing a pair of key contributors when they kick off the season at Minnesota on Thursday night — one on each side of the football.
Expected starting center Harry Miller and veteran cornerback Cameron Brown were both listed as unavailable by Ohio State and ruled out of the matchup with the Gophers, likely pressing two fresh faces into the lineup in significant spots. Miller has been viewed as an anchor for the best-five unit up front for the Buckeyes all offseason, and Brown's season-ending injury a year ago wound up being a major setback as the pass defense struggled mightily without his speed and experience in the secondary.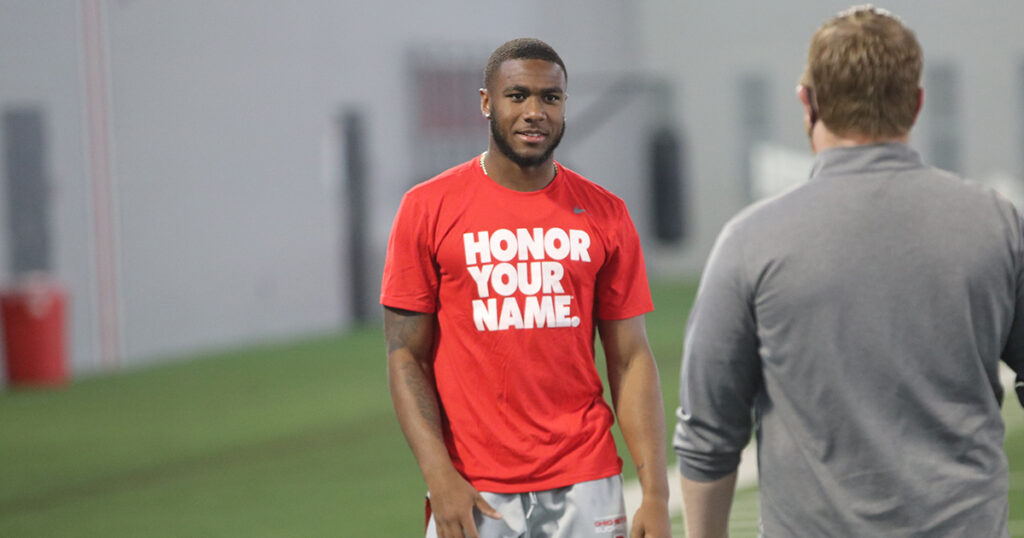 "[A healthy Brown] means everything for us, because Cam was playing really well last year," Ohio State defensive coordinator Kerry Coombs said. "People forget that. He had a good camp, he was playing really well, he was going out there and playing Nickel, man-to-man in some tough situations — and he was playing really well. It was a heartbreaking injury for him. He worked hard to rehab it, and he finds himself in a good spot right now.
"We are going to be careful, we are going to be cautious — we should be. But at the same time, he's got to knock the rust off and he's got to be ready to play."
Brown isn't quite back to that point enough to make his return against the Gophers, although sources with direct knowledge of the situation indicated it's not a long-term issue and that he could be cleared for Week Two against Oregon.
But the Buckeyes still have to replace him for the opener on the road, likely opening the door for sophomore Ryan Watts or freshman Denzel Burke to take first-team reps — or possibly putting converted wide receiver Demario McCall in line for reps.
The offensive snaps will likely be handled by second-year center Luke Wypler, though Ohio State also has the option of kicking guard Matthew Jones down to the middle as well. Wypler has been widely praised for his work ethic and made the position battle with Miller closer than might have been expected, but his insertion into the lineup would give Ohio State first-time starters at both quarterback and center.
Here is the complete status report for Ohio State, making note that the program doesn't reveal specific injury or disciplinary information.
Ohio State Game-Time Decisions
Unavailable Buckeyes
WR Kamryn Babb
CB Cameron Brown
DT Jerron Cage
DB Jantzen Dunn
DE Tyler Friday
OL Jakob James
BUL Jaylen Johnson
LB Mitchell Melton
C Harry Miller
TE Joe Royer
OL Toby Wilson