Snap Judgments as Buckeyes race past Maryland to another B1G blowout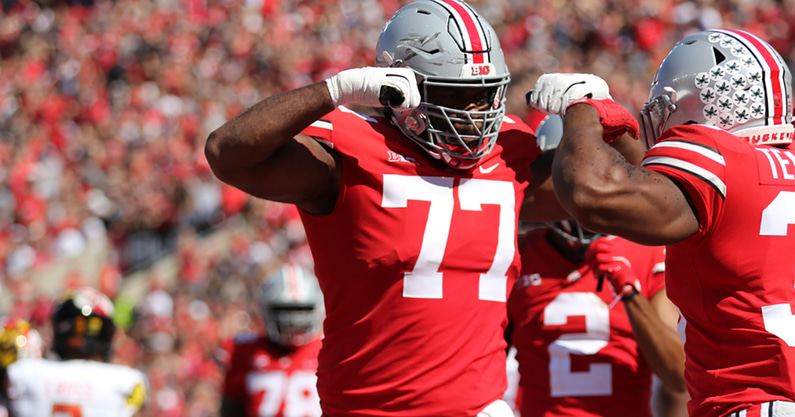 COLUMBUS — Ohio State isn't exactly where it expected to be.
But the Buckeyes are right back on track to get where they want to go.
At the risk of putting too much emphasis on a handful of games Ohio State was always favored to win comfortably, the program certainly appears to have overcome its early setback last month to start flexing the way it always envisioned. The latest demolition was barely ever competitive as the Buckeyes took the hammer to Maryland from start to finish, cruising to a 66-17 victory that offered another reminder of the elite potential the four-time defending Big Ten champions bring to the trophy race.
Ohio State still doesn't have any margin for error in the College Football Playoff marathon. But with an offense that is scoring at will, a surging defense that is growing up in a hurry and a roster loaded with top-to-bottom talent, the Buckeyes might not need it.
There will be tougher tests than Maryland, of course. But heading into the midpoint of the season and an off week, the Buckeyes are certainly trending in the right direction.
Bottom Line: Ohio State is tapping into its high-end potential, and the rest of the Big Ten won't be encouraged by the seemingly effortless blowouts over Rutgers and Maryland.
That's where the Snap Judgments begin as the postgame coverage of another dominant outing from Ohio State ramps up at Lettermen Row.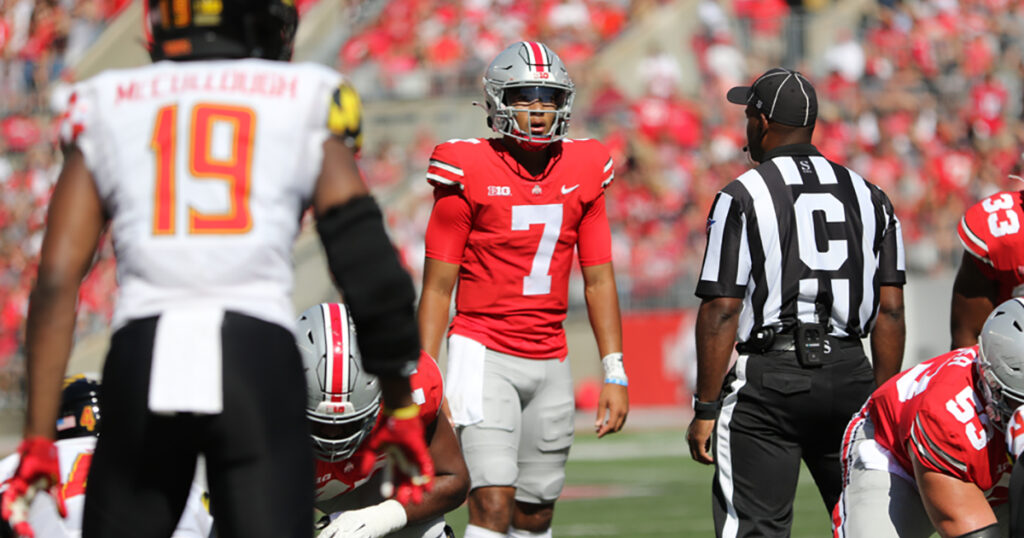 Ohio State passing attack is something special
Most of that hand-wringing about the Ohio State passing attack a month ago always seemed unnecessary given how much talent is on hand at wide receiver. But it seems particularly laughable in hindsight now that C.J. Stroud has worked through both the physical and growing pains that slowed down his first month on the job. The redshirt freshman is getting more comfortable and confident with every passing week, and it's easy to see why when Chris Olave, Garrett Wilson and Jaxon Smith-Njigba are helping take the pressure off at wide receiver. That trio is incredibly gifted, and it's hard to imagine how scary it must be for defensive coordinators to see them lined up together in a bunch set like Ohio State unveiled on Saturday. The Buckeyes are showing no signs of slowing down, and Stroud is starting to put together some Heisman Trophy-caliber numbers.
Buckeyes trusting instincts to fuel defensive improvement
Marcus Williamson sniffed out a screen, bailing on a blitz to blow up the Maryland pass behind the line of scrimmage. Teradja Mitchell didn't hesitate, shooting a gap to blow up a running play and derail what had been a promising Maryland drive. Steele Chambers fought off blocks and chased down a play that a month ago could have taken a chunk out of the Buckeyes.
The list of Buckeyes showing that kind of dramatic improvement on defense could be even longer, but that sample size is enough to drive the point home. The youngsters on defense have made the most of their early-season experience, channeling that into more aggression and more than enough stops to complement a high-flying offense.
Emeka Egbuka gives Ohio State yet another weapon
Along with perhaps the most prolific offense in the country and a blossoming defense, now throw in a special-teams threat that looks poised to explode on just about every return. Emeka Egbuka is increasingly showing why the five-star was ranked among the top prospects in the country, carving up Maryland on the way to 166 kickoff return yards that made the job even easier for the offense. Egbuka is just a fraction away from breaking the decade-long touchdown drought for Ohio State, and that's also starting to push him into the mix more often on offense. Just what the Buckeyes needed: Another game-changing weapon.