Ohio State, Ryan Day relying on atmosphere to help recruiting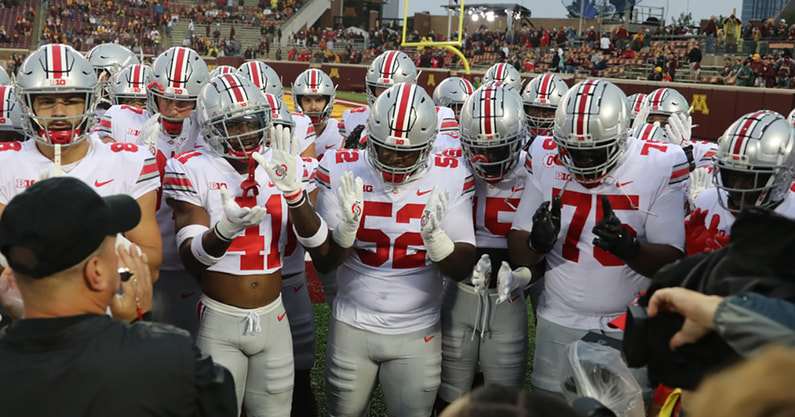 COLUMBUS — Ryan Day is hoping Ohio State fans are as excited to return to the Horseshoe as Ohio State recruits are.
It's been a while since either group was able to take in a game-day atmosphere with the Buckeyes.
"It's been over 600 days since we had a full stadium here," Day said Tuesday. "I think that recruits have been talking about coming to this game since they saw it on the schedule, and we'll have a big number here.
"We're hoping it's one of the best it's been in a long, long time around here."
Last weekend, stadiums around the country were rocking. Fans eager for some semblance of normalcy cranked up the crowd noise from coast-to-coast. In a game that features the best programs from the Big Ten and the Pac-12, Day stressed the importance of having a built-in advantage in its own stadium.
"This is a very, very big game for our program," Day said. "And we need Buckeye Nation in this game. We need them to be loud, especially on third down. We need them to be loud when Oregon has the ball.
"I think the last game that we played with fans when Penn State played here [in 2019], and that was as loud as I've heard it. We need that same type of environment here. It's got to be an advantage for us."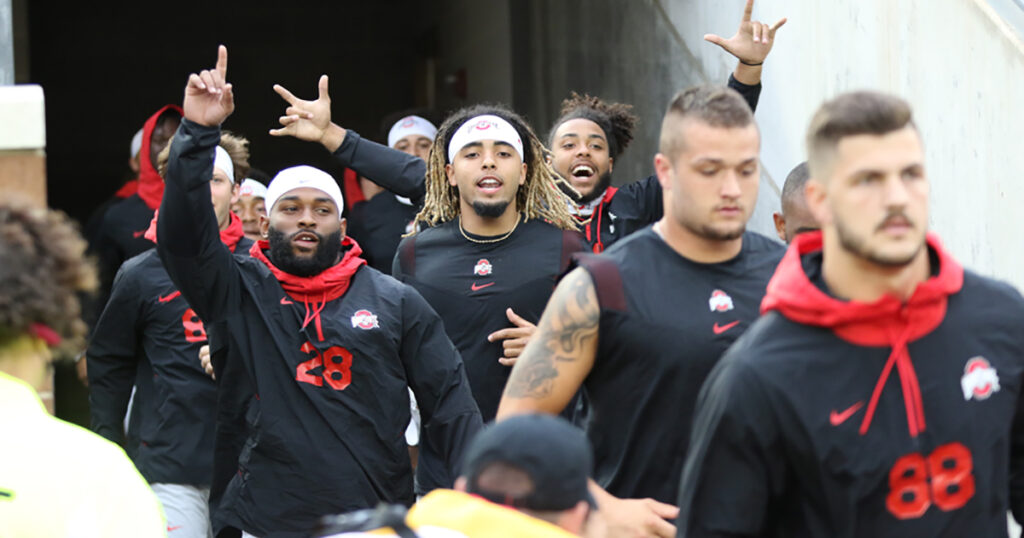 Games like this are huge for recruiting, obviously. That's true any year. The Buckeyes won't host another marquee matchup until Halloween, so putting on a show for recruits becomes paramount.
It's a showcase that features the atmosphere of Ohio Stadium this weekend more than it does the Ohio State coaches. Rarely do recruits make a decision based on who wins or loses a game, but the energy around a program matters. When Day and his assistants are dialed in on a game like they are this one, most of their energy is on game plan, not recruiting responsibilities.
"This is all about winning the game right now," Day said. "I assume [recruits] understand that they're not going to get as much attention as they typically would."
That is the catch-22 that comes with in-season recruiting. That's why Ohio State does so much of its work during spring and summer.
Fall is for football.
"The more people you bring on campus, the less attention you can spend [on] each person," he said. "And there's also a part of being being here on game day and seeing this type of environment. And I wish we could invite everybody in the country and take everybody on, but there's a limitation on all of that.
"We want to make sure we're doing a good job with the people who are on campus."
A number of high-priority recruits will be on campus this weekend, including longtime, top-of-the-board 2022 targets like offensive lineman Earnest Greene and defensive linemen Caden Curry and Christen Miller. Those players making official visits will get plenty of time and attention from Ohio State coaches. The unofficial visitors won't. They'll arrive at campus an hour or two before kickoff — and in some cases will be on the road home before the Buckeyes are back on the bus after the game.
The way to mitigate that is with a game-day atmosphere that leaves an impression. Ohio Stadium can be a memorable experience for recruits taking it in for the first time. Again, Ryan Day is calling on Buckeyes fans to deliver.
"Obviously in this past year, there's a lot going on," Day said. "A lot of dynamics at play. But to have over 100,000 people at a game like this says a lot about Buckeye Nation. After everything we've been through, I know there's going to be so many people dying to go into that 'Shoe and see the band, to see us run out of that tunnel and cheer on the Buckeyes and be together for a weekend.
"I think that's something everybody misses around here."
Every visit to a college football cathedral is important. Every visit is different. This weekend, Ryan Day is hoping the Horseshoe can make the difference.
"Recruits and their families are going to be excited to be here," he said. "And the experience every time you visit campus is a different.
"This is obviously a unique one. First time back and you know, we're really hoping that the crowd is excellent."