Ohio State continues slow burn in 2023 as recruiting gets back to 'normal'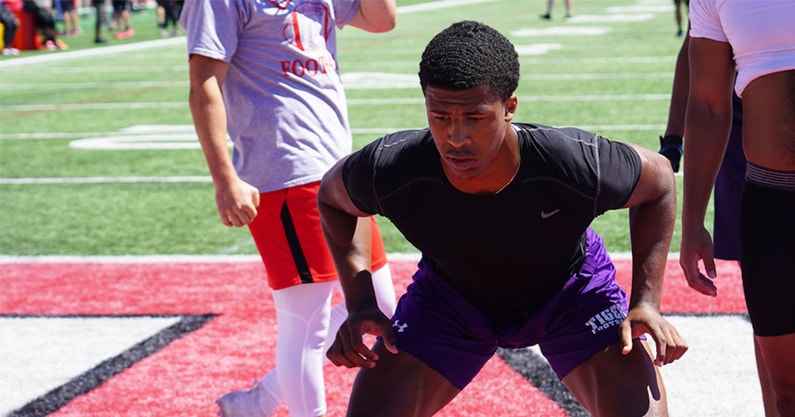 COLUMBUS – Consider the summer's recruiting mission accomplished for Ohio State.
The goal was simple, the execution may have been more challenging. After nearly 16 months without any in-person recruiting, the Buckeyes coaching staff undertook an ambitious month of June, welcoming in almost 50 official visitors and nearly 200 other unofficial visitors for recruiting targets. After another three-week dead period in July, and a chance for coaches to catch their breath, things wrapped up with a BBQ at Ohio State on Thursday. A fun day for relationship building and bonding among the kids in attendance.
It was a stretch that Ohio State's Mark Pantoni, the Buckeyes director of player personnel, called "extraordinary" in late May. Overwhelming was another word he used — and that was before the month began. The Buckeyes didn't have to do it that way, but they wanted to. After so many months, Ryan Day and his staff felt they owed it to the young men Ohio State was recruiting. The Buckeyes also needed the chance to meet who they've been recruiting — virtually — for the last year-and-a-half.
"We wanted to get as many guys that were interested on campus," Day said two weeks ago. "We hadn't been around them. But we felt like these people deserve to be on our campus and get our best shot. We worked really hard — our staff worked really, really hard — in June. I think it's going to pay a lot of dividends."
Those dividends may not come right away, especially in the Class of 2023. Day knows that too. That is perfectly fine for the Buckeyes third-year head coach. There's no hurry for early commitments, especially now that Ohio State feels it can continue down the road to "normal" recruiting. The Buckeyes have identified their top targets and will focus on growing relationships.
"I'm really proud of — not just the talent — but the quality of people we're bringing into the program right now," he said. "I mean just really impressed. And it's going to be nice for [the 2023] class. We are actually going to be able to recruit them the right way. We're going to be able to go to their schools, to watch them play basketball and watch and do spring football and maybe even get out and watch them play a game. We're not in a huge rush in that class because we want to do it the right way. To go back to recruiting the way it was before there was Covid.
"But we're excited and think we're in a great position."
That position is a result of unprecedented success on the recruiting trail for the Buckeyes. Day has found a recipe that nearly every coach in America would envy. He's not reinvented the wheel though. The Buckeyes are just telling recruits the truth and letting them decide if Ohio State is right for them.
Crazy, right?
The recruits that want to be Buckeyes share a common goal. They have common characteristics. It's helped Day and his staff weed out the guys that don't fit as much as it's helped them determine who does. That's why Ohio State opened up the doors this summer rather than taking a more methodical approach through the season.
"We really don't like doing official visits during the season," Day said. "It's very distracting trying to figure out ways to bring in official visitors for a game. It's good to see the atmosphere but [recruits] aren't getting a coaches attention and [recruiting] is all about relationships.
"I think we really hit a home run in some of those areas. Some people we brought in? Slam dunk. Other people we brought in, it just wasn't the right fit. And that isn't right or wrong, it just was what it was. The more we could get those people in front of us, the better feel we have for building a class."