Breaking down Buckeyes visitors for final summer recruiting event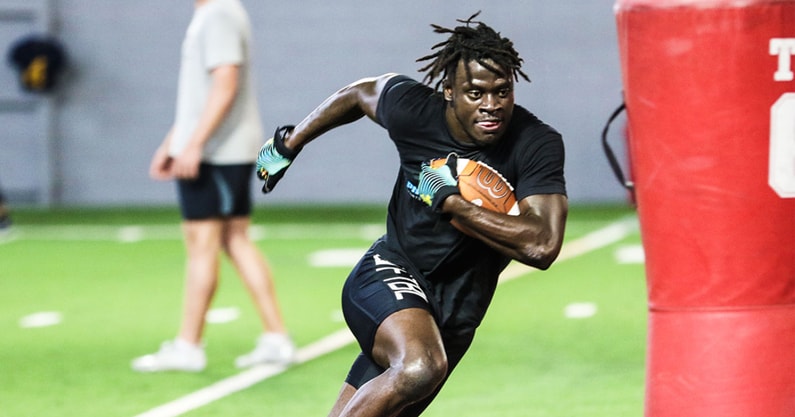 COLUMBUS – After waiting a year-and-a-half for the chance to recruit in person again, Ohio State is set to wrap up its summer recruiting efforts.
The final recruiting push before the start of the football season comes Thursday as the Buckeyes welcome in a number of key targets from around the country for a day of fun, food and football. The stresses of camp season behind them, Ryan Day and his coaches will put down their whistles and focus instead on conversations and relationship-building with high-level, very important prospects.
The goal? Continue building toward the Buckeyes first 2023 commitment. So far, the building of that class has been slow, but it's not been without purpose according to Ryan Day.
"I think we're in a great position," Day said last week. "I'm really proud of not just the talent, but the quality of people that we're bringing into the program right now. It's going to be nice for this class because we're actually going to be able to recruit them the right way. We're going to be able to go to their schools, to watch them play basketball and watch — and do — spring football and maybe even get out and watch them play a game. We're not in a huge rush in [the 2023] class."
That effort — to recruit the right way — is underway and gets a big kick on Thursday.
Who is coming to town? Here are some of the most important storylines for Ohio State's big recruiting cookout.
Sunshine State Squad coming to Ohio State
Florida is bringing the heat to Columbus this week.
5-star running back Richard Young leads the list. The country's No. 1-ranked 2023 tailback is making his second visit to Ohio State this summer after camping with the Buckeyes during the first week of June. Young has developed a great relationship with Tony Alford and the Ohio State running backs coach continues to make an impact. Alford is also playing a key role in the recruitment of defensive lineman Derrick Leblanc and offensive tackle Payton Kirkland. Leblanc, a 4-star defensive end from Osceola (Kissimmee, Fla.) High School has already been to Ohio State twice this summer. A third visit in eight weeks underscores his interest in the Buckeyes but also the fact that there's real reciprocity.
For Payton Kirkland, it's a key first visit to Columbus. He's been at Michigan and Michigan State the past two days visiting two other Big Ten programs so he'll get a good chance to compare Ohio State to them right away. Kirkland will not be the only Florida offensive lineman with a Buckeyes offer in town, though. Clay Wedin from Carrollwood Day (Tampa) is also making his first trip to see Ohio State.
It's a big group of 2023 Floridians but it's the return of 2022 defensive end Kenyatta Jackson that could be more imminently interesting. The 4-star edge rusher from Chaminade-Madonna Prep took an official visit last month but will head north again with teammate — and Buckeyes commit — Ryan Turner. Oklahoma and Ohio State are jockeying for position in this battle and it's a pivotal trip for the Buckeyes.
Finally, 2024 receiver Earl Kulp is a name to know from Florida. The rising-sophomore receiver from St. Thomas Aquinas has Ohio roots and four of high Division 1-level offers already, including one from Michigan and Miami.
Hero Kanu returning to see Buckeyes again
California standout Hero Kanu is coming back to Columbus. The 4-star defensive tackle, originally from Germany, is heading back to Ohio State following an unofficial visit at Notre Dame. Kanu is a player that is very — very — high on the Buckeyes wishlist and he really connected with Larry Johnson during his first, two-day stint at Ohio State last month.
Kanu was absolutely dominant in Columbus during his camp performances with the Buckeyes.
Jadyn Davis could be top Ohio State quarterback target in the Class of 2024
The Buckeyes are welcoming back quarterback Jadyn Davis to campus for the second time this summer as well. One of the country's top sophomore quarterback prospects, Davis told Lettermen Row he's already feeling like a priority for Ryan Day and Ohio State.
A Georgia native who now lives outside of Charlotte, N.C., Davis isn't shying away from Justin Fields comparisons being foisted upon his shoulders. It's way too early for Ohio State to push for a commitment, but the Buckeyes are in a great early position. This trip can only improve their positioning.
Ohio State commitments coming back to town
A handful of Buckeyes commitments are set to attend the Ohio State cookout on Thursday alongside Ryan Turner. In-state verbals C.J. Hicks, Tegra Tshabola and Jyaire Brown are making the short drive to Columbus. Gabe Powers is expected to stop by when he's finished with football practice. Illinois receiver Kaleb Brown is coming back to Ohio for the first time since he committed last month.
Quinn Ewers had originally planned to make the visit back for the cookout but had a late change of plans, so he won't make it. He could be back in town sometime soon, however.
In-state 2023 prospects to know
Staying inside of Ohio's borders, a trio of key Buckeyes 2023 targets are coming back to town.
That group is led by 5-star Sonny Styles, who — like Powers — will find some time to visit after football practice at Pickerington Central High School. Findlay (Ohio) 4-star lineman Luke Montgomery will travel to Columbus with his mother for the day and he'll run into fellow offensive line prospect Josh Padilla at Ohio State.
There's no rush for a commitment from any of these in-state players. Still, camaraderie is going to key for the Buckeyes if they want to win the battle against Notre Dame. The Irish are considered the primary competition for each player at this point.
Other players visiting Ohio State
This list isn't the be all, end all, but it's good starting point for who is expected in Columbus on Thursday. What other key names are the Buckeyes looking to connect with?
RB Jayden Limar, Lake Stevens (Wash.), 2023 4-star
WR Anthony Brown, Springfield (Ohio), 2023 3-star
WR Jonathon Paylor, Burlington (N.C.) Cummings, 2024
TE Ty Lockwood, Thompson's Station (Tenn.) Independence, 2023 4-star
OL Trevor Lauck, Indianapolis (Ind.) Roncalli, 2023 3-star
LB Tamere Robinson, Pittsburgh (Pa.) Brashear, 2023 4-star
DB Christian Gray, St. Louis (Mo.) DeSmet, 2023 4-star
As mentioned, this list isn't likely to be the extent of the visitors, but it's a good place to start. It's a very talented, deep group coming to Ohio State for a big recruiting event.
(Top photo: Richard Young via Birm/Lettermen Row)