Next Man Up: How Buckeyes can replace J.K. Dobbins in backfield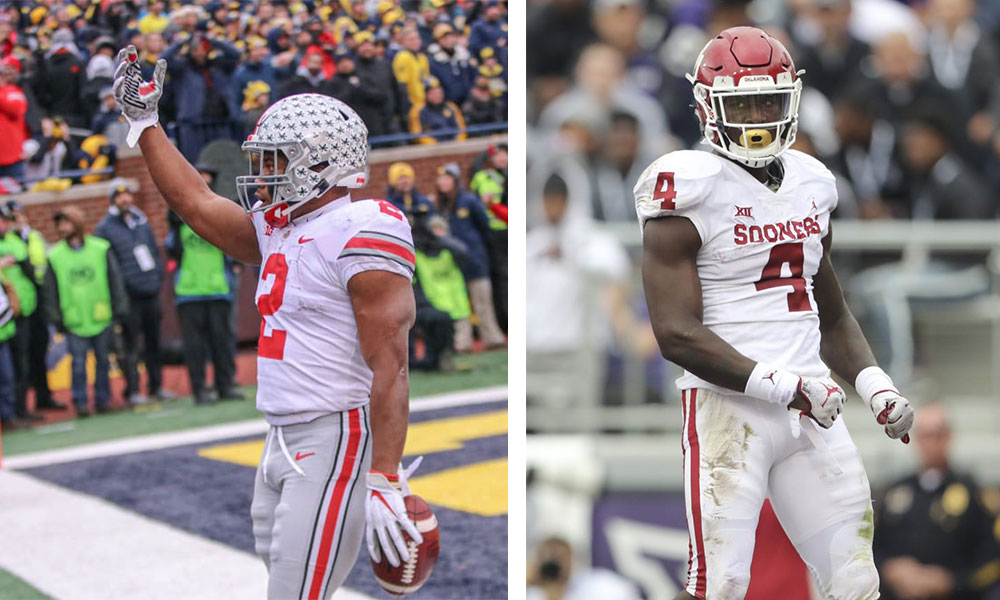 Ohio State had an incredible season last year on its way to the College Football Playoff, where it nearly beat Clemson and advanced to the national title game. Many of the key players from that team moved onto the NFL. How will the Buckeyes replace those departures? And who could step in to make plays similar to what the former Buckeyes made last season? Lettermen Row is breaking down key plays and who could make them, starting with how Ohio State will replace J.K. Dobbins.
---
COLUMBUS — J.K. Dobbins had the greatest rushing season in Ohio State history.
The program that lays claim to five Heisman Trophy-winning running backs never had a 2,000-yard rusher until Dobbins came along and topped that mark last season.
A special player, Dobbins could do it all — and that includes catching the ball out of the backfield. In his Ohio State career, Dobbins had 71 catches for 645 yards and five receiving touchdowns. His drops in the Fiesta Bowl loss that ended his career still linger, but Dobbins knows his receiving ability, which can be a perfect complement to go with his running style.
"A lot of people try to say that I can't catch because I took my eyes off the screen pass in the playoff game," he said at the NFL Combine in February. "But I had more than 70 catches, so I think I can catch pretty good."
Dobbins had home-run ability carrying the ball; he could make huge plays with his hands, too.
How can plays like the arrow route for a touchdown against Northwestern be handled by his replacement? And who will be the running back who is lined up there if the Buckeyes run that play in 2020? Lettermen Row is breaking down the candidates to fill that void and why they'd make sense to play that spot.
Ohio State options
Trey Sermon: The former Oklahoma tailback had 36 catches for 391 yards and six receiving touchdowns over his three-year career with the Sooners. He's a hard, physical runner, but he also has soft hands and displayed them in an offense similar to what the Buckeyes operate. If Sermon can come in and learn the playbook quickly, he could be making catches that will look like Dobbins never left.
Marcus Crowley: The sophomore back appeared in seven games last season before an injury cut his season short. Crowley was Florida's Gatorade Player of the Year in 2018, and he showed glimpses of that ability last season, including an 82-yard rushing game against Maryland in November. He also had a receiving touchdown last season.
Master Teague: After a competition in fall camp, Teague earned the backup job behind Dobbins a season ago. He was the seventh-leading rusher in the Big Ten from that role. He had the Buckeyes longest carry of the season (73 yards) and four of his five touchdowns were from beyond 40 yards. If Teague can continue to show home-run ability — and get healthy after his spring injury — he could take over the starting role, which would include catching passes. But for now, there's currently no timeline for a full recovery after his Achilles tear in March.
Steele Chambers: Another second-year running back, Chambers only played in four games and took a redshirt last season, so there's less film to go off of than the others. He's also the only healthy running back on scholarship at the moment, and the spring was going to be huge for him and his development — before it was canceled. That was a bad break for Chambers, but if he can find a way to stand out when the Buckeyes get back on the practice field, he could surprise.
The pick: Trey Sermon
Maybe the other running backs on the roster are being sold short. Teague showed what he could do last season, Crowley was solid for the Buckeyes in limited opportunities and Chambers has potential to become a good player for the Buckeyes. But Sermon has the vision and instinct to make catches out of the backfield, as he proved last season with Jalen Hurts at quarterback for the Sooners. Justin Fields is probably better than Hurts, and he can improvise and make plays to his running backs.
If Fields can find the same connection Trey Sermon found with his three quarterbacks in three years at Oklahoma, this marriage should go smoothly. Bet on Sermon catching passes for big plays throughout the fall out of the backfield.