Moving Targets: Top Buckeyes targets making important visits with recruiting rivals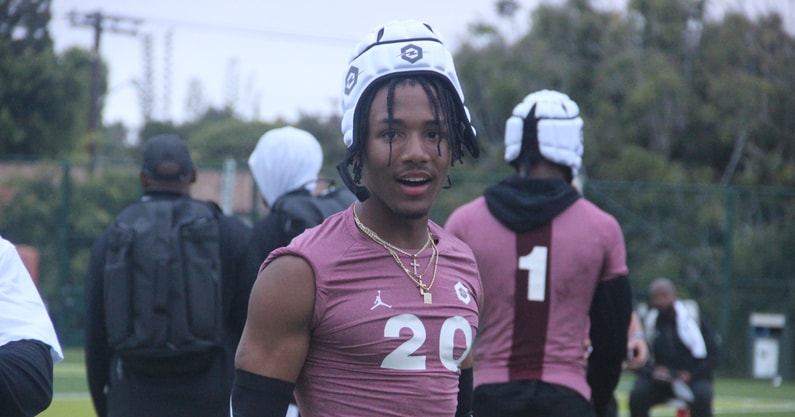 COLUMBUS – Ohio State had a lot of big-time visitors on campus on Thursday for the Buckeyes Bash and BBQ.
The "camp" welcomed a handful of top Buckeyes prospects for a day of hanging out and low-pressure recruiting efforts. The casual cookout has become a regular event at college campuses around the country as coaches continue to look for new, creative ways to get some face time with top players and their families.
While the Buckeyes are working on the young guys on their campus, a couple of huge Ohio State targets are visiting other schools hosting similar events.
Which key recruits are on the road? How worried should the Buckeyes – and Buckeyes fans – be?
Top Ohio State 2023 cornerback target A.J. Harris is visiting Clemson
Back in April, most Buckeyes fans hadn't heard of Glenwood School (Phenix City, Ala.) cornerback A.J. Harris but after dominating the Under-Armour Camp Series in Atlanta the 2023 5-star cornerback burst onto the Ohio State radar. The country's No. 2-ranked rising-junior cornerback has become a top target for Kerry Coombs and the Buckeyes and left a Columbus visit in June raving about Ohio State. He was a clear priority for the entire coaching staff.
"The whole coaching staff, the running backs coach to the tight ends coach and wide receivers coach to the head coach," Harris said. "They were all there for me and got to know us."
This weekend Harris is visiting Clemson. He's visited the Tigers previously but his mother — who has been to each of his top schools except Clemson — wasn't there. Friday she'll be there. Harris has been talking about making an early decision and has planned to return to Ohio State for a game early in the season. This is a big visit to Clemson. Certainly, the Buckeyes would have loved to have Harris back in Columbus this week instead. This is the is the type of player Ohio State would love to build its 2023 class around.
Zion Branch is heading back to USC for a third time this summer
The road from Las Vegas to Los Angeles has become a fairly common business route for Zion Branch. The 4-star safety from Bishop Gorman High School is one of two top remaining safety targets for the Buckeyes. He's been to USC twice already this summer and — because he's a lifelong Trojans fan — it's not going to give anyone in Columbus the warm and fuzzies to know he's going back there again this weekend. Clay Helton has done a great job hiring young, energetic recruiters and none of them have been as effective as defensive backs coach Donte Williams.
There's no plan for a decision from Branch until he makes official visits to Alabama and Clemson this fall, but the proximity and relationship he has with USC certainly impacts the Buckeyes quite a bit. Branch told Lettermen Row at the Under Armour Future 50 Camp last month that he felt at home in Columbus during his June official visit.
"I really felt like Ohio State was a potential home for me," he said. "I could live there for sure."
There's a long way to go in this recruitment but every trip to USC makes the Trojans a bigger threat to the Buckeyes.
Oklahoma likely to sell SEC move in attempt to land Chris McClellan
It seemed like a Buckeyes commitment was close when Chris McClellan left his official visit to Ohio State last month. Larry Johnson, usually as patient and reserved as possible, was even pushing hard for it to happen.
"He told me he thinks I'm the right guy to be the first guy," McClellan told Lettermen Row. "I told him that I'd have to go home and think about that. I'm definitely going to have to sit down after this Ohio State visit and have a talk with my family."
That talk didn't end in a commitment, but the Buckeyes have been the presumptive leader over the last month. This weekend, the 4-star defensive lineman will head to Oklahoma, giving the Sooners what could be a final shot to keep him in state. Oklahoma's impending move to the SEC is interesting, and is likely to be primary talking point for Lincoln Riley. The hope here is simple: get McClellan to delay a commitment elsewhere. In most cases, the longer a recruitment goes, the better it is for the home-town team.
(Top photo: A.J. Harris via Zack Carpenter/Lettermen Row)