No upcoming decision for J.C. Latham, Buckeyes make key lists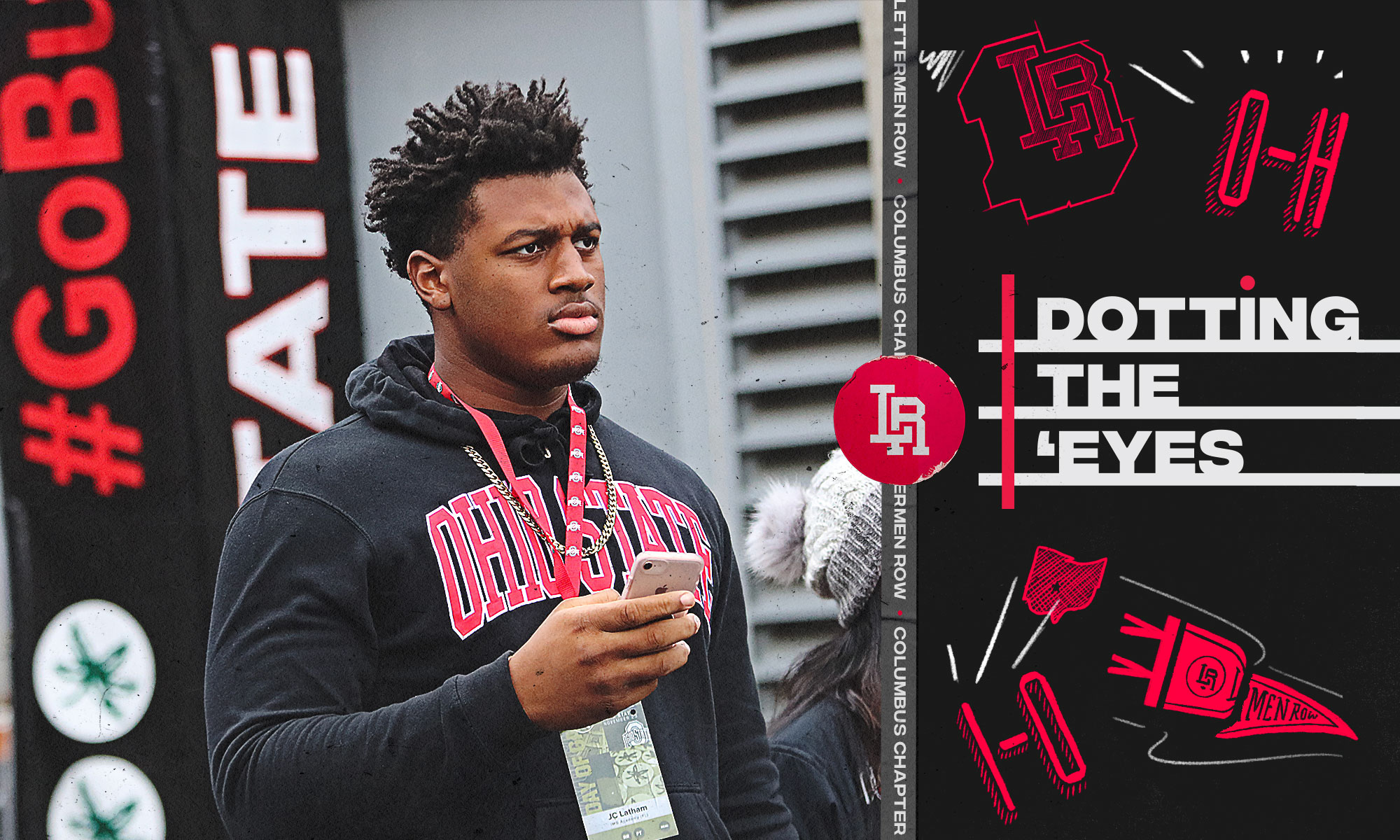 Stay in touch or be left out because Ohio State recruiting is a 24-hour, seven-day-per-week obsession. What's the latest news as the Buckeyes build for the future? Get that and more Sunday through Thursday on Lettermen Row. On Thursday, we update the plans of J.C. Latham and catch up on a pair of Top 2021 targets in the defensive backfield.
Decison timeline changed for Ohio State target J.C. Latham
One of April's biggest recruiting questions now has an answer and it's not the answer that Ohio State or Buckeyes fans were hoping for. J.C. Latham, the country's No. 6-ranked offensive tackle, will not make his college announcement on April 18 as he had been planning to do.
"No, I'm not committing on April 18 anymore," Latham told Lettermen Row earlier this week. "Because of coronavirus."
The Covid-19 pandemic caused Latham, who had been planning two pivotal spring visits to Ohio State and LSU, to push back his plans but at the moment there is no replacement date in mind. The 6-foot-6, 285-pound IMG Academy lineman is expected to visit the Buckeyes in June for an official visit and if that visit occurs as planned, it'd likely happen in tandem with an official visit to LSU, the two programs most closely linked to his recruitment.
It remains to be seen exactly how this recruitment will play out as schools and recruits around the country try and sort out the unknowns associated with the coronavirus-related recruiting dead periods. A lot of kids are pushing their commitment plans forward, but J.C. Latham is not going to be one of them.
Ohio State included in final eight schools for Tony Grimes
On his 18th birthday, the country's top-ranked 2021 cornerback prospect released his Top 8, or final eight maybe, schools and the Buckeyes are still in the mix for 5-star defensive back Tony Grimes.
Top 8 Schools Blessed 🙏🏽 @dhglover @Bubblesdnf pic.twitter.com/Ctg5RTq5e6

— Tony Grimes (@757EliteDB) April 9, 2020
Ohio State has been in the conversation with Grimes for a while now but perhaps now more than ever as the relationship between Grimes, his family and Buckeyes defensive coordinator Kerry Coombs continues to grow. The good news for Ohio State is that there's no intention from the 6-foot-tall, 185-pound cornerback to make a college decision anytime soon there's real time left for visits to occur and bonds to be built.
The Buckeyes are probably in the middle of the pack currently for Grimes but this feels like one of those situations that the longer it goes, the better for Ohio State.
Buckeyes also make cut, as expected, for Kamar Wilcoxson
Unsurprisingly, the Buckeyes also made the most recent list for IMG Academy — but Georgia native — Kamar Wilcoxson, who continues to be one of the more interesting recruiting stories to follow in 2021.
https://twitter.com/KamarWilcoxson4/status/1248060858992820225?s=20
Wilcoxson was expecting to be on campus for the first time with Ohio State this coming weekend, a visit that many folks had suggested could lead to a flip from Florida to the Buckeyes, though Wilcoxson decided two weeks ago to decommit from the Gators ahead of any trips he'll make in the future.
Ohio State is the favorite here whenever things get back on track as Williamson, who was offered by the Buckeyes in late January, continues getting closer to Kerry Coombs and the group of 15 current Buckeyes commitments.
Ohio State offers California standout C.J. Williams
Another player who was anxious and excited to be in Columbus this weekend but won't be is Mater Dei (Santa Ana, Calif.) High School 2022 wide receiver C.J. Williams. A 6-foot-2, 175-pound star for the Monarchs, Williams had been in touch with Brian Hartline in recent months and that conversation culminated in a scholarship offer to the country's No. 4-ranked sophomore wideout on Wednesday.
Wow! Beyond grateful to be able to say that I have received an offer from THE University of Ohio State! Thank you to @brianhartline, @CoreyDennis_, & @ryandaytime. @GregBiggins @BrandonHuffman @adamgorney @MDFootball @premiumsportsla #GoBucks ⭕️ pic.twitter.com/RoqjfRmgp2

— CJ Williams (@CJWilliams_03) April 8, 2020
The offer was extended by Hartline himself, according to Williams.
"The Coach who actually offered me was Coach Hartline," Williams told Lettermen Row. "We kind of spoke about football and life in general. He told me that he takes a lot of pride in an Ohio State offer and the fact that they were offering me a scholarship was big.
"He knows that I love this game and I hang my hat on being the best on whether it's classroom, field, or film sessions. This in addition to my film was enough for him to extend an offer to me."
Ohio State is one of three schools to offer Williams on Wednesday and that brings his total to almost 25.
Need more Ohio State recruiting #Stuff? Join the conversation below in the comments and sign up for Scarlet Sunrise, Lettermen Row's morning newsletter that will get your day started with all the important Ohio State news you need to know. Prefer video? Follow Buckeyes football on YouTube with Lettermen Row. You can also get your recruiting fix by subscribing to Talking Stuff: The Ohio State Recruiting Podcast on iTunes, Spotify, Google Play and Stitcher.