Scarlet Sunrise: Buckeyes unveil 2022 athletic Hall of Fame class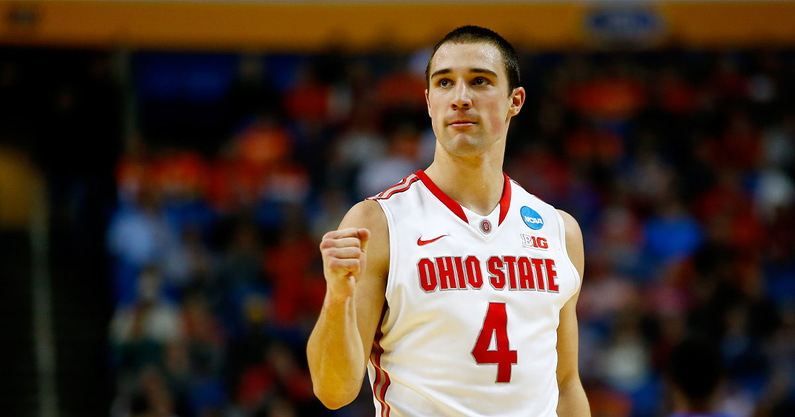 Good morning, Ohio State fans, and welcome to the Scarlet Sunrise. Football will always be our focus, but every day we'll cover news, notes and analysis from across Buckeyes sports. Join us each morning to get caught up on everything you missed in the world of Ohio State football, recruiting, basketball and more in Scarlet Sunrise.
Buckeyes unveil 2022 athletic Hall of Fame class
The Ohio State athletic department released its 2022 Hall of Fame class on Tuesday. The list is quite impressive.
Former football stars are included. Former Buckeyes cornerback Shawn Springs is joined by former Ohio State quarterback Tom Tupa, Billy Ray Anders and Charles W. Bolen.
Former Buckeyes hoops star and record-setter Aaron Craft received the nod for the Hall of Fame, as well. The full list of inductees can be found below.
Billy Ray Anders (football), Greg Bice (men's lacrosse), John Bluem (men's soccer coach), Charles W. Bolen (football/men's basketball), Joel Brown (men's track), Aaron Craft (men's basketball), Adam Crompton (men's fencing), Jenna Harris Griffin (women's track), Alayna Markwordt (women's lacrosse), Russ Nagelson (baseball), Shawn Springs (football), Logan Stieber (wrestling), Jonathan Sweet (baseball), Tom Tupa (football) and Dan Whitacre (wrestling)
Five-star wide receiver Brandon Inniss commits to Ohio State
Ohio State isn't losing any steam as the best program for recruiting top wide receiver talent: Brandon Inniss committed to the Buckeyes on Tuesday.
The five-star American Heritage (Miami Gardens, Florida) product picked the Buckeyes over USC, Miami, Alabama, LSU, Oklahoma and nearly every other school in the country trying to get his pledge.
Brandon Inniss is now the second-highest ranked commit in the Ohio State recruiting class. He is the third receiver in the Buckeyes 2023 class, joining four-star Florida native Bryson Rodgers and five-star Florida native Carnell Tate, who committed Monday. The pair of talented pass catchers give Ohio State 12 commitments in their Big Ten-best class so far.
The 5-foot-11.5-inch, 189 pound Inniss has been considered a lean to the Buckeyes for the last month, even after an official visit to Alabama at the beginning of June, leading up to his official visit this weekend, and that visit certainly helped Brian Hartline and Ohio State seal the deal with the No. 22 player in the On3 consensus rankings. The On3 Recruiting Prediction Machine gave the Buckeyes a 70.8-percent chance to land his commitment before he announced it.
New Tim May Podcast episode
Another week of the offseason, another intriguing week of Ohio State talk on the Tim May Podcast.
To break it all down, Tim is talking to former Ohio State wide receiver Johnnie Dixon, who is bursting onto the scene again as a USFL star playmaker. Tim and Johnnie are talking about Dixon's rise as a star in the new football league and, of course, a lot of chatter about the Buckeyes.
Ohio State hosted five-star receiver Brandon Inniss on a visit this past weekend. On Monday, five-star receiver Carnell Tate chose Ohio State over a handful of programs from around the country. And Dixon is breaking down why top receivers want to play for Brian Hartline, Ryan Day and the Buckeyes top-ranked offense.
Why are receivers lining up to be coached by Brian Hartline? What are the factors that make the Buckeyes staff so good? What was the transition from Urban Meyer's run-heavy offense into an air-it-out style like in the 2018 season? Dixon reveals plenty of answers.
Are you subscribed yet?
Are you ready to get all your latest Ohio State news in one place? Become a member of Lettermen Row today. With your Lettermen Row/On3+ membership, you'll not only have access to the everything that's happening with the Buckeyes, but you'll also be able to peruse other fan sites within the network to hear just how rivals are feeling about Ohio State, as well. Make sure to follow along on Twitter, Instagram and on Youtube for all the latest Buckeyes news you need to know.
Already signed up? Don't forget to join us in the Lettermen Lounge to talk about the latest Ohio State sports news.