Antwuan Jackson reaching potential, aiming for final-season breakout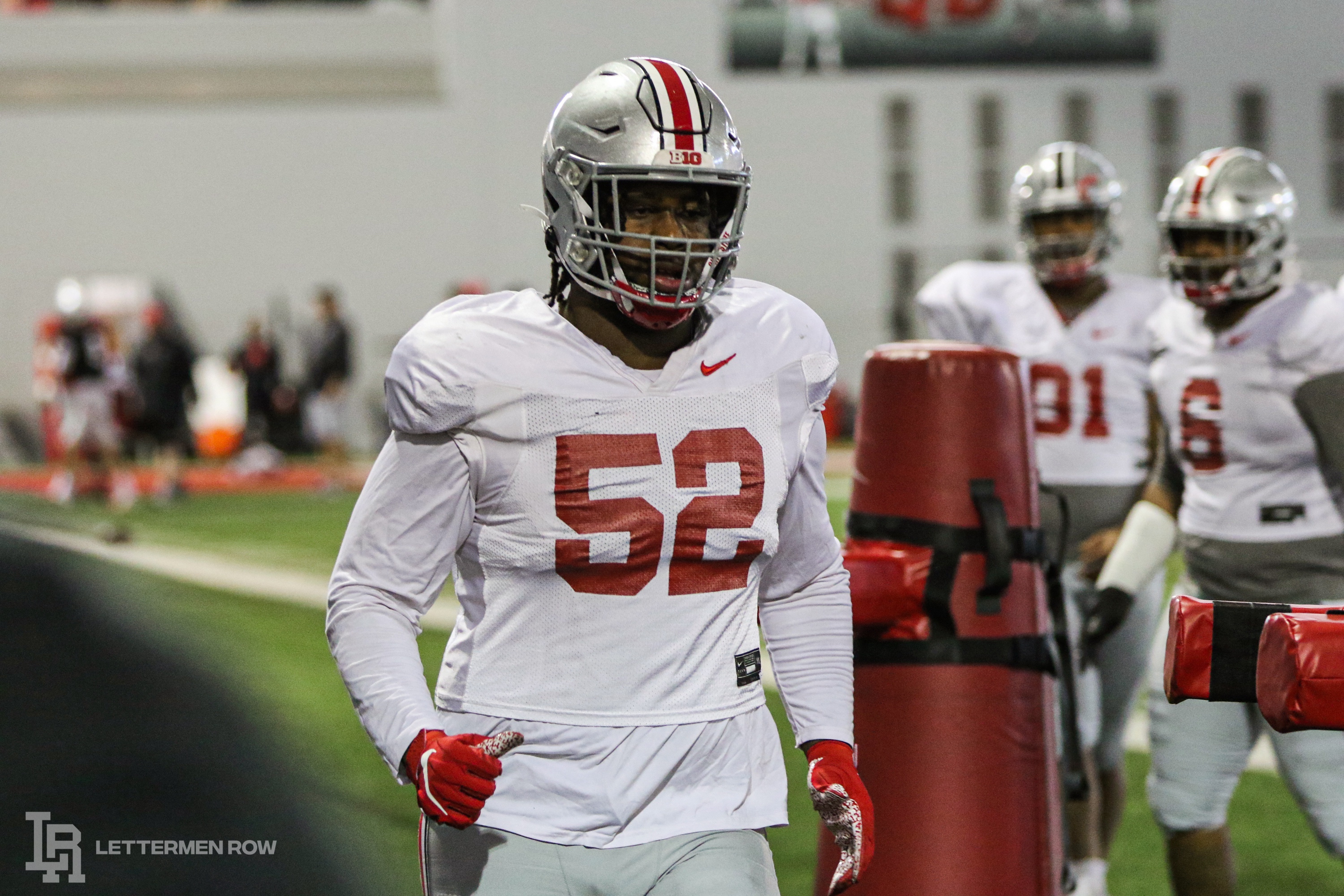 COLUMBUS — Ohio State defensive tackle Antwuan Jackson still has more to prove.
After a stint at Auburn following a wild recruitment, a trip to junior college and finally making his way to Ohio State, Jackson has been working toward a role on the defensive line since he arrived in 2018.
Last season was expected to be his final shot, a fifth year with talented players ahead of him on the depth chart and spotty production. But the NCAA allowed players an extra year of eligibility following the pandemic-altered season. Jackson was the perfect Buckeyes contributor to take advantage of the rule. And he's ready to finally prove himself in Year Six.
"Of course I had to put some thought into it after the national championship game," Jackson said. "I knew I could do more. Coming back and keep improving like I am right now, just come back and keep improving for myself and for my teammates and, of course, win a national championship this time.
"Everybody doesn't have a chance like this. So just to improve, to be here and just to be a Buckeye, it's a big honor to have this chance."
Jackson hasn't had the production he would have likely hoped for during his time at Ohio State. The former four-star recruit has just 4.5 tackles for loss and one sack during his three seasons with the Buckeyes so far. But now as Tommy Togiai moves on to the NFL and the Buckeyes need a new nose tackle, Jackson has a chance.
The Buckeyes certainly have options beyond Jackson, but his experience in the program and talent give him the best shot to play alongside Haskell Garrett on the inside and be a part of one of the best defensive lines in America. Jackson has been showing he can do it all spring.
"The nose position is a different position," Ohio State defensive line coach Larry Johnson said. "You have to be a powerful guy, very quick. That's why we loved [Robert Landers], because he was so quick on the inside. In Tommy's case, he was so powerful inside you could hardly move him. Antwuan is a quicker guy. He'll give us more movement on the inside as we go forward. But that's what we're looking for. That guy has to be a powerful guy. He has to be smart. He's got to understand protections.
"That's the kind of guy we're looking for at nose. We like a bigger guy, but I'll take quickness over big to make sure we can make a difference at the line of scrimmage. We want to knock the line of scrimmage back, that's what we ask our nose tackle to do. Create a new line of scrimmage and make the ball bounce. I'm really happy with our guys on the inside and how hard they're working to make a difference."
Jackson has nearly every trait Johnson looks for in a nose tackle at Ohio State. And after years of development, he's ready to take the next step toward becoming a star along the defensive line.
That process doesn't happen instantly, even for a player with five years of experience at three different stops. The process Johnson preaches to the Rushmen in the defensive line room is real, and it's a tough one to go through. Now with five seasons to perfect the process, Jackson is gaining steam and seems finally primed in his final season.
"Antwuan is one of those guys who is a fifth-year guy coming back so he gets it now," Johnson said. "He's a much smarter football player. He reads and reacts to things well. That's where Tommy was. Tommy was a really smart player."
Jackson understood the need for growth and development. Now he can use it as he pushes for stardom.
"I'd still say it's a process like Coach J tells us," Jackson said. "In his program and as a Rushman, it takes like two or three years to get there to reach your potential. I really trust Coach J and having this extra year to keep improving, it's really a big blessing to me. I have a big offseason coming up for myself. Been writing down things for myself to get done when we have this break after spring ball.
"I'd say it's a big summer for me, and it starts right now in spring ball."
[yt-video v=gwXuDx5UGcY]