Buckeyes continue impressive streak of AP poll finishes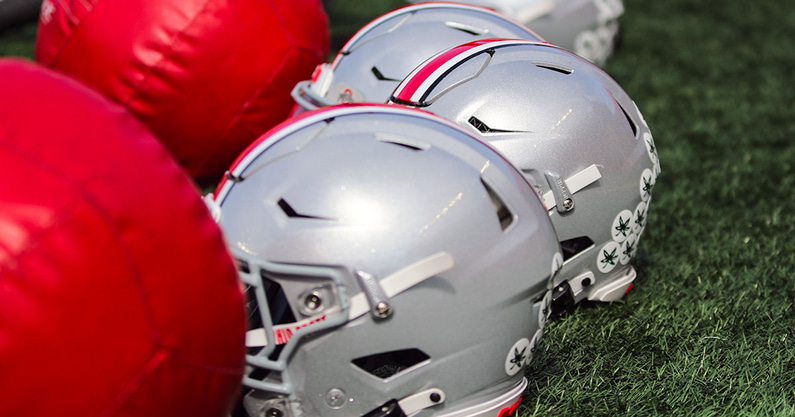 COLUMBUS – For the first time in six years, Ohio State finds itself ranked outside of the top five in the season's final AP poll. But the Buckeyes still continued the nation's best when it comes to finishes in the poll.
The Buckeyes finished ranked sixth in the AP poll, which was released Tuesday morning following Georgia's national championship game victory over Alabama.
The Bulldogs are the unanimous top-ranked team in the country with 61 first-place votes, followed by Alabama, Michigan, Cincinnati and Baylor to round out the top five.
Ohio State's finish as the No. 6 team in the country marks the eighth consecutive year in which the Buckeyes have finished ranked inside the top six of the final AP poll. That is the longest streak in the country.
The Buckeyes are able to boast that feat following a fun, wild 48-45 victory in the Rose Bowl on New Year's Day. That was on the back of strong, impressive performances from quarterback C.J. Stroud and receiver Jaxon Smith-Njigba among others.
Stroud's return as a Heisman Trophy finalist and Smith-Njigba returning for his third season with Ohio State are major factors into why the Buckeyes should be able to make another run as one of college football's highest-ranked teams during the 2022 season.
Ohio State will be bringing back one of the nation's best offenses yet again, led by Stroud, Smith-Njigba, TreVeyon Henderson – who will be one of the early favorites to win the Doak Walker Award for the country's best running back – and a slew of five-star receiver talent.
On the flip side, new defensive coordinator Jim Knowles is expected to bring some reinvigoration to a unit that has as much talent as any team in the sport.
Ohio State ended the year on a positive note, and the Buckeyes have some momentum heading into the 2022 campaign after ending the 2021 season as one of the nation's best yet again.
Week 16 AP Poll (Jan. 11)
Georgia (61 first-place votes)
Alabama
Michigan
Cincinnati
Baylor
Ohio State
Oklahoma State
Notre Dame
Michigan State
Oklahoma
Ole Miss
Utah
Pittsburgh
Clemson
Wake Forest
Louisiana-Lafayette
Houston
Kentucky
BYU
NC State
Arkansas
Oregon
Iowa
Utah State
San Diego State