Buckeyes continue ascension in College Football Playoff hunt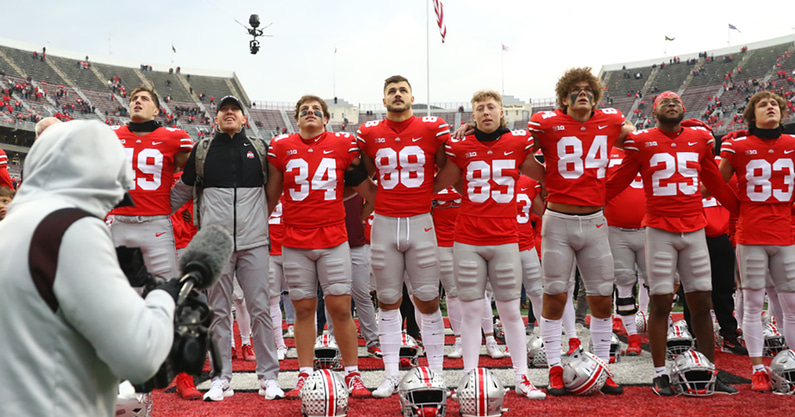 COLUMBUS – Ohio State obliterated Purdue, and then it destroyed Michigan State.
The Buckeyes were completely dominant, and their path to the College Football Playoff remains the same – win and they're in.
"You can see our capability and when we're playing really good football and clean football we certainly have a high ceiling," Ohio State coach Ryan Day said after the Buckeyes 56-7 win on Saturday.
AP poll voters have taken notice of that big win and that high ceiling. They moved the Buckeyes up in the poll following their win over the Spartans and after Oregon's loss to Utah late Saturday night.
Ohio State is ranked No. 2 in the latest poll as Georgia is once again the unanimous top-ranked team in America. The Bulldogs are followed by the Buckeyes, Alabama, Cincinnati and Notre Dame to round out the top five.
The AP poll does not have any influence on the College Football Playoff rankings, but the Buckeyes are likely to move up in their playoff positioning following the convincing win over the Spartans.
Buckeyes quarterback C.J. Stroud is continuing to look like a Heisman Trophy favorite, Ohio State has the most lethal offense in college football, and the defense is humming along as well.
Following the Ducks' loss, it's almost a certainty that Ohio State will move up in the College Football Playoff rankings that will be released on Tuesday.
For the Buckeyes, though, they will now be focused on their next huge showdown – a road matchup against rival Michigan next Saturday in Ann Arbor. A win will put Ohio State into the Big Ten championship game again as it seeks a fifth consecutive conference title.
The full AP Poll can be found below.
Week 13 AP Poll (Nov. 21)
Georgia (62 first-place votes)
Ohio State
Alabama
Cincinnati
Notre Dame
Michigan
Oklahoma State
Ole Miss
Baylor
Oklahoma
Oregon
Michigan State
BYU
Texas A&M
UTSA
Utah
Iowa
Wisconsin
Houston
Pittsburgh
Wake Forest
San Diego State
Louisiana-Lafayette
NC State
Arkansas