Buckeyes hold steady in latest polls after blowout win over Toledo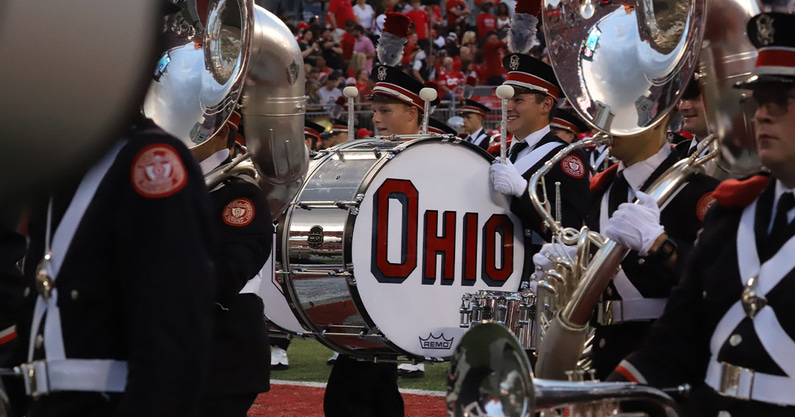 COLUMBUS — Ohio State can finally put its nonconference slate in the rearview mirror. It's time for Big Ten play.
After romping Toledo to finish the out-of-conference portion of the schedule, the Buckeyes can now shift their focus to beating Wisconsin to open a new season of league play — with Ohio State not as the reigning Big Ten champ for the first time since 2017.
Ohio State will open Big Ten play with the No. 3 slot in the AP Poll for the third straight week, trailing only defending national runners-up Alabama and national champion Georgia. Michigan and Clemson rounded out the top five yet again.
Ohio State received one first-place vote after the win over Toledo, showing that there is still one pollster who thinks the Buckeyes could take down every other team in the country if they played right now.
The full AP Top 25 can be found below.
Week 4 AP Poll (Sept. 18)
1. Georgia
2. Alabama
3. Ohio State
4. Michigan
5. Clemson
6. Oklahoma
7. USC
8. Kentucky
9. Oklahoma State
10. Arkansas
11. Tennessee
12. North Carolina State
13. Utah
14. Penn State
15. Oregon
16. Ole Miss
17. Baylor
18. Washington
19. BYU
20. Florida
21. Wake Forest
22. Texas
23. Texas A&M
24. Pittsburgh
25. Miami
Ohio State countdown
Buckeyes vs. Wisconsin: 6 day away
Ohio State vs. Michigan: 69 days away
Are you subscribed yet?
Are you ready to get all your latest Buckeyes news in one place? Become a member of Lettermen Row today. With your Lettermen Row/On3+ membership, you'll not only have access to the everything that's happening with the Buckeyes, but you'll also be able to peruse other fan sites within the network to hear just how rivals are feeling about Ohio State, as well. Make sure to follow along on Twitter, Instagram and on Youtube for all the latest Buckeyes news you need to know.
Already signed up? Don't forget to join us in the Lettermen Lounge to talk about the latest Buckeyes sports news.