How Caden Curry is quickly gaining ground on Buckeyes depth chart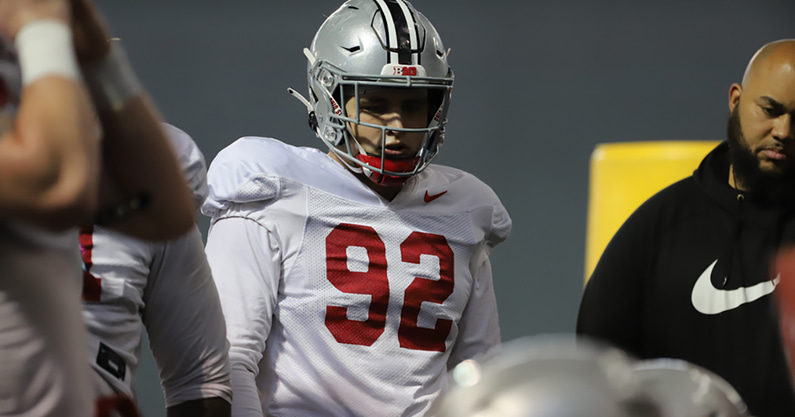 The summer offseason is in full swing, and Lettermen Row is trying to survive it with our annual Position Week breakdowns. By the time all nine units and coaching staff at Ohio State have been covered, training camp and media days will nearly have arrived, and the return of football in the Horseshoe will be just around the corner. Our positional weeks roll along with the deep Buckeyes defensive line unit.
---
COLUMBUS — There has been a buzz about Caden Curry for a while now, even before he came to Ohio State.
It started in Greenwood, Indiana, and it grew so loud that Buckeyes defensive line coach Larry Johnson was drawn to it. He was this sort of medium-sized defensive lineman making plays all over the field like he was a Chase Young wannabe or a Bosa brother — but with linebacker range.
The hum heightened during the week of preparation for the U.S. Army All-American game this past January, Curry by then already signed to the Ohio State class of 2022. He turned heads in San Antonio, putting on a clinic of how to beat blockers in pass-rush drills. 
Then came his early enrollment and thus winter of conditioning and 15 days of spring drills with the Buckeyes. At 6-foot-3 and 250 pounds, he grew stronger, and so did the buzz. In the spring game, he looked the part of someone who can be in the playing depth this fall in new defensive coordinator Jim Knowles' 4-2-5 defense, which has a hybrid position seemingly tailor-made for Curry's talents. 
And then there is his demeanor.
"He's kind of surly, a little bit, a lot like Jack (Sawyer)." Knowles said, comparing Curry to the sophomore Sawyer, who is expected to rule the roost this season. "I mean, those guys seem to be surly, and I like that kind of personality. 
"So yeah, he's got a quick first step and he's a little surly. That equals potential greatness."
Understand, too, that Knowles handed out such praise sparingly this spring as he worked to restructure a defense that at some key times last year seemed to lack surliness and confidence in the scheme. But anyone can see that Curry is a bona-fide building block for the new-look wall.
"Caden plays with a high motor, he's a really good football player," Ohio State coach Ryan Day said. "He plays a lot bigger than he [looks]. He's really intelligent; quick twitch. I think he's going to be a heck of a football player."
Those are two positive votes from a couple of men who, uh, hold a lot of sway in deciding who plays. As for Curry, he's been creating such buzz most of his life, and out of necessity.
"When I was a little kid I was always playing up to my brothers' age groups," Curry said. "They were two grades older than me. … That kind of gave me that mindset from an early age, that I've got to get out there and work for everything. I have to get out there and out-work everybody. 
"So I've kind of just had that motor on the field of just wanting to beat everybody, not letting anybody get past me or anything. I've kind of been that way all my life."
And about that surly nature, also known as a nasty streak that Ohio State was drawn to.
"I feel like when I get out on the football field, a little switch turns on in the back of my head," Curry said. "I kind of just let everything go out of the way for a second, I'm just focused on football, and I don't really care. 
"If I've got to hit you anywhere I'm gonna do it, I mean, to get past you."
Combining that attitude with what appears to be an acumen for getting after it, no matter what the job demands on a particular play. It's what causes the buzz – onlookers speaking of what they just saw.
"His first step. Some of the things I saw him do in pass rush, turning the corner – really impressive," Knowles. 
It should come as no surprise, then, whom Curry has studied to up his game.
"I kind of just look at myself like Nick Bosa," Curry said, referring to the former Ohio State defensive end now with the San Francisco 49ers. "That's how I kind of want to build myself and be like. Just everything. Watching how athletic he gets on the outside, all the speed rushes and then using his power to kind of just have all the tools to be able to succeed."
Both Bosa brothers had buzz coming in. Caden Curry is right on track to do the same early in his Ohio State career.