Buckeyes receiver Chris Olave selected by Saints in first round of NFL draft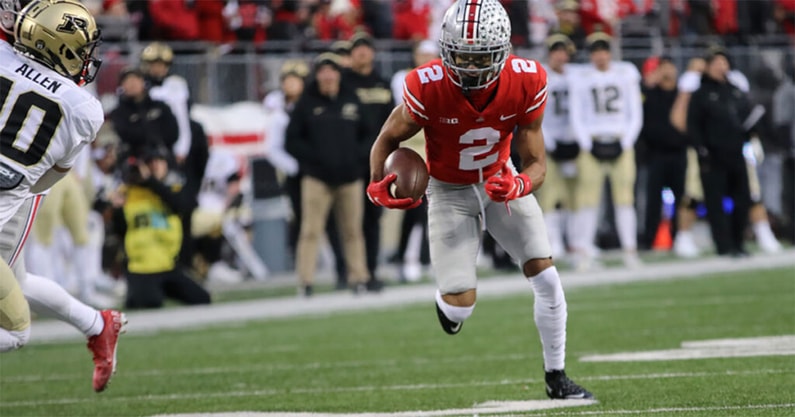 COLUMBUS — Ohio State wide receiver Chris Olave spent four years terrorizing opposing college secondaries.
He will now have a chance to do it at the next level: Olave was selected in the first round of the NFL Draft on Thursday night. He was taken No. 11 overall by the New Orleans Saints, who traded up to land him.
Olave became the second Ohio State receiver to be drafted in the fist round Thursday night. Garrett Wilson was selected by the Jets with the No. 10 pick earlier in the night.
Both receivers became the first Buckeyes receivers to be drafted in the first round since 2007, when Ted Ginn Jr. and Anthony Gonzalez were both first-round choices.
Olave didn't need to wow anyone at the NFL combine or during the draft process, but he still chose to in pre-draft workouts. Olave had an incredible Buckeyes career, showcasing his first-round talent during his four-year career.
"There's nothing to prove to nobody, really," Olave said at the NFL combine early in the draft process. "I just want to prove it to myself. I've been training for this for so long, and just to get this once in a lifetime opportunity is a huge blessing.
"So, I've just got to go out there and compete against myself. It's just Me versus Me, and I'll show the world what I can do."
Olave arrived at Ohio State as a little-known consensus three-star prospect who was the lowest-rated receiver in the 2018 Buckeyes recruiting class. He leaves the program as an all-time great. Of course, that's in large part due to the work he did, but it also is a credit to the Ohio State training staff and superstar receivers coach Brian Hartline, a former NFL receiver himself.
Olave's ball-tracking skills down the field and his elite speed helped him become a star on his own. The route-running ability and technical skills were refined under Hartline. Combine those factors, and Chris Olave became a no-brainer to be called to the podium on Thursday night.
And the Saints did just that, selecting Olave with the No. 11 pick.