C.J. Stroud earns yet another weekly B1G honor for Buckeyes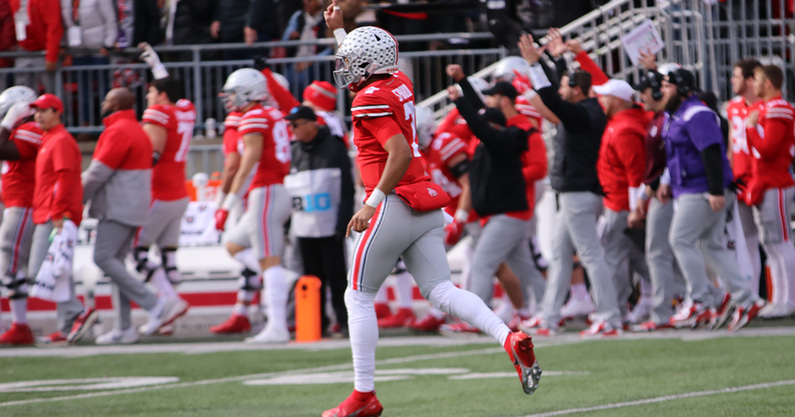 COLUMBUS — The awards and honors just keep coming for Ohio State quarterback C.J. Stroud.
After torching Michigan State with six touchdown passes in the first half and his fourth 400-plus-yard passing game of the season, Stroud was named Big Ten Freshman of the Week by the conference office on Monday.
He was also named the Big Ten Player of the Week for his domination of the Spartans.
The final stat line was certainly head-turning: 32 of 35 passing for 432 yards and six touchdown tosses. It's even more impressive that most of it came in the first half, when he at one point completed 17 straight passing attempts to the loaded crop of Buckeyes receivers.
Stroud put the potential of the Ohio State offense on full display in the rout, and it helped the Buckeyes gain steam heading into the massive rivalry showdown with Michigan.
"We had a great week of practice and preparation," Stroud said. "They did some good things on defense. So we knew we had to be prepared for it. And really everything that we thought we were going to get, we kind of got, so it was good just to come out there and execute at a high level."
The honor is nothing new for Stroud. The second-year signal caller has been named Big Ten Freshman of the Week seven times in 11 games. He was also named Big Ten Player of the Week on offense after his performance against Maryland on Oct. 9.
He was also honored as the Walter Camp National Player of the Week because of his performance against the Spartans this week.
While those awards are becoming commonplace for Stroud, he seems to be trending toward the lead for an even bigger honor. Stroud has taken over as the leader for the Heisman Trophy, according to VegasInsider.
Stroud sits at -200 to win the award. He leads Alabama quarterback Bryce Young (+150) and Ole Miss quarterback Matt Corral (+1600).