With many firsts behind him, C.J. Stroud can settle in for Buckeyes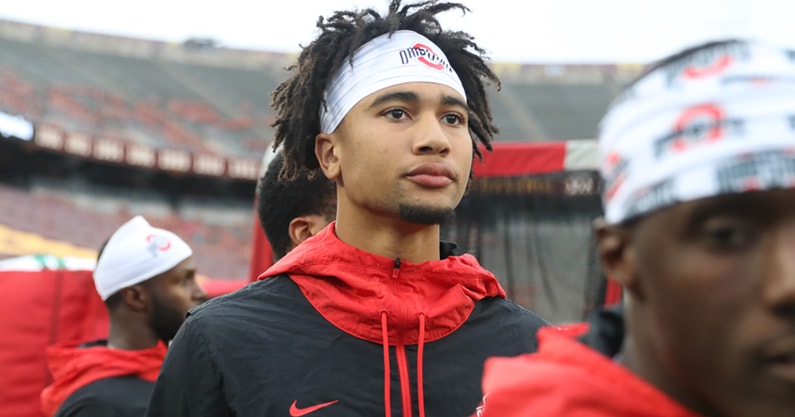 COLUMBUS — Ohio State never expected a flawless first performance from C.J. Stroud.
But the Buckeyes would certainly love if he improved on it in time for the encore.
Stroud shook off a rocky first half last week in Minneapolis to finish with four touchdown passes and nearly 300 yards. Not bad for a quarterback who had never thrown a collegiate pass prior to getting off the bus at Minnesota.
But the good also came with an interception and various misses on open receivers. Stroud wasn't perfect. Nobody asked him to be. And as he prepares for his second start, this time at home against a top-12 opponent in Oregon, it's important to remember that he's only one start into his Ohio State career.
"Now you can say that you have done it before," Buckeyes coach Ryan Day said. "I mean, there were a lot of things going into that game that we could say that C.J. hadn't done … but he had never even thrown a pass. And it's one thing to be a first-time starter. It's another thing to be doing everything for the first time going on the road, playing in front of fans, being a starter, throwing a pass in a game. All those things — throwing your first interception, throwing your first touchdown — those are all new things for him.
"Any time those things are new like that, there's a toll that's taken. And so once it's behind you, then you can go upon that and use it as a reference point. That's what we're going to do."
Stroud finished his inaugural Buckeyes start without completing more than two straight pass attempts. But he also never had more than two straight incompletions.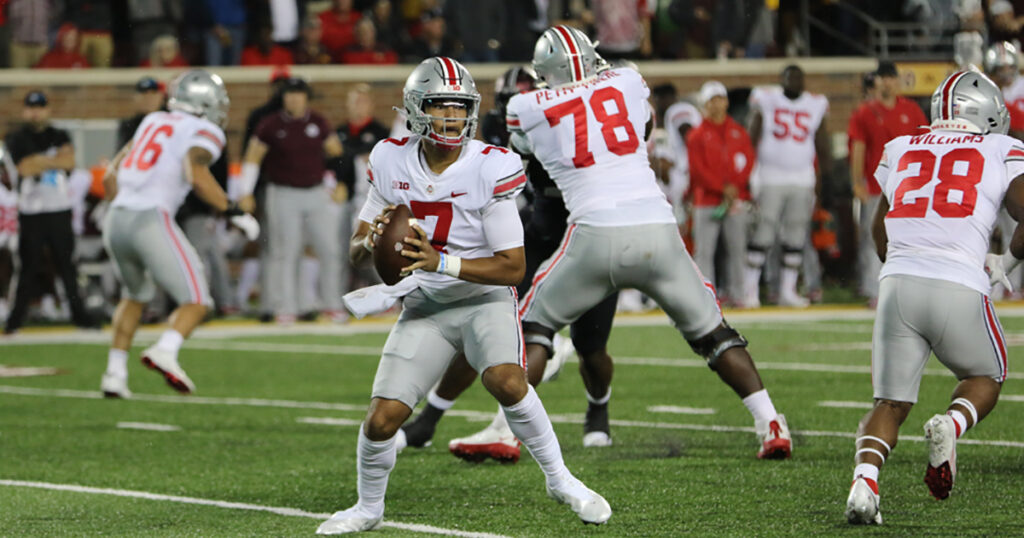 He led five touchdown drives on just 48 plays, showing the efficiency and explosiveness a Stroud-led offense can produce for Ohio State. Once he settled into the game, he was composed and ready to lead.
After the shaky first half in which Stroud had no touchdowns and his first interception, he locked in. So did the Buckeyes. Stroud completed five passes in the second half. Four went for touchdowns, and none of his completions went for fewer than 10 yards.
It showed just how good a calm, settled C.J. Stroud can be for Ohio State.
"He played great, I think," Buckeyes star wide receiver Chris Olave said. "It was his first game, still a freshman, 19 years old. There's going to be a couple of mistakes, but I'm proud of the way he responded and the way he finished the game. That's who C.J. is."
In a game full of them, no first was bigger than First Road Win. That's what mattered for Stroud and the Buckeyes.
Now with most of the first-time feelings behind him, Stroud has a new challenge: The highly-anticipated matchup against Oregon and a packed Horseshoe with a home crowd.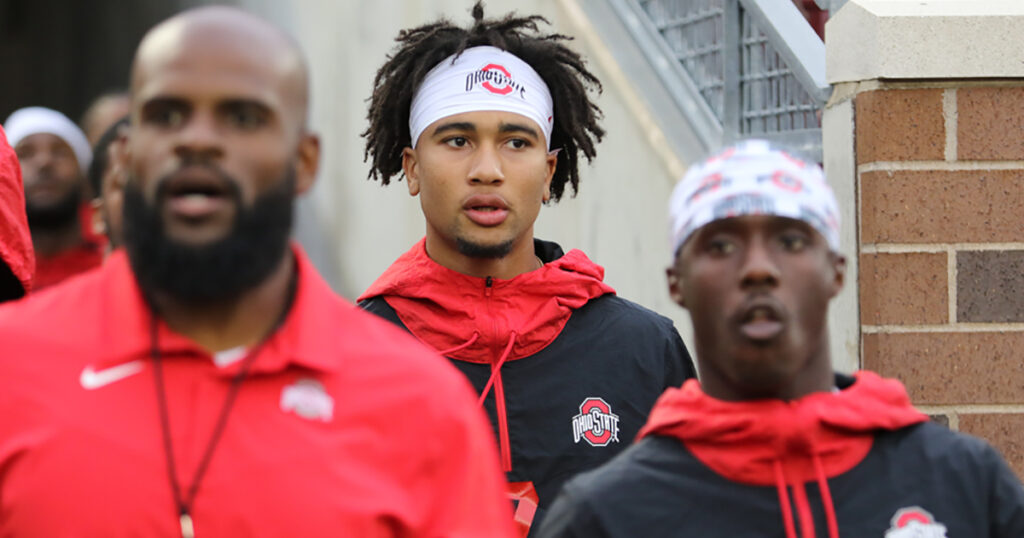 The support in Ohio Stadium will certainly allow for a more calming experience than the 50,805 in Minneapolis, nearly all making it hard on the visiting offense. Once Stroud and the Buckeyes silenced that crowd, he was able to settle in and become what the coaching staff saw in naming him the starter.
"I just felt like he had to get comfortable," Olave said. "Once he got comfortable and once he got his feet under him, he was good. I feel like going into the second quarter, he was kind of still shaky a little bit. But coming out of halftime he got his head on his shoulders, and he started throwing the ball.
"He kind of got through it on his own. We were there to comfort him. I know it was tough. It was kind of loud out there. So the atmosphere and environment was huge, but we stood by him and told him it was going to be cool. So he got it. It was all him at the end of the day."
The first start was never going to be perfect for C.J. Stroud. But the young, talented quarterback won't have to deal with many more firsts.
Plenty of them are now behind him.